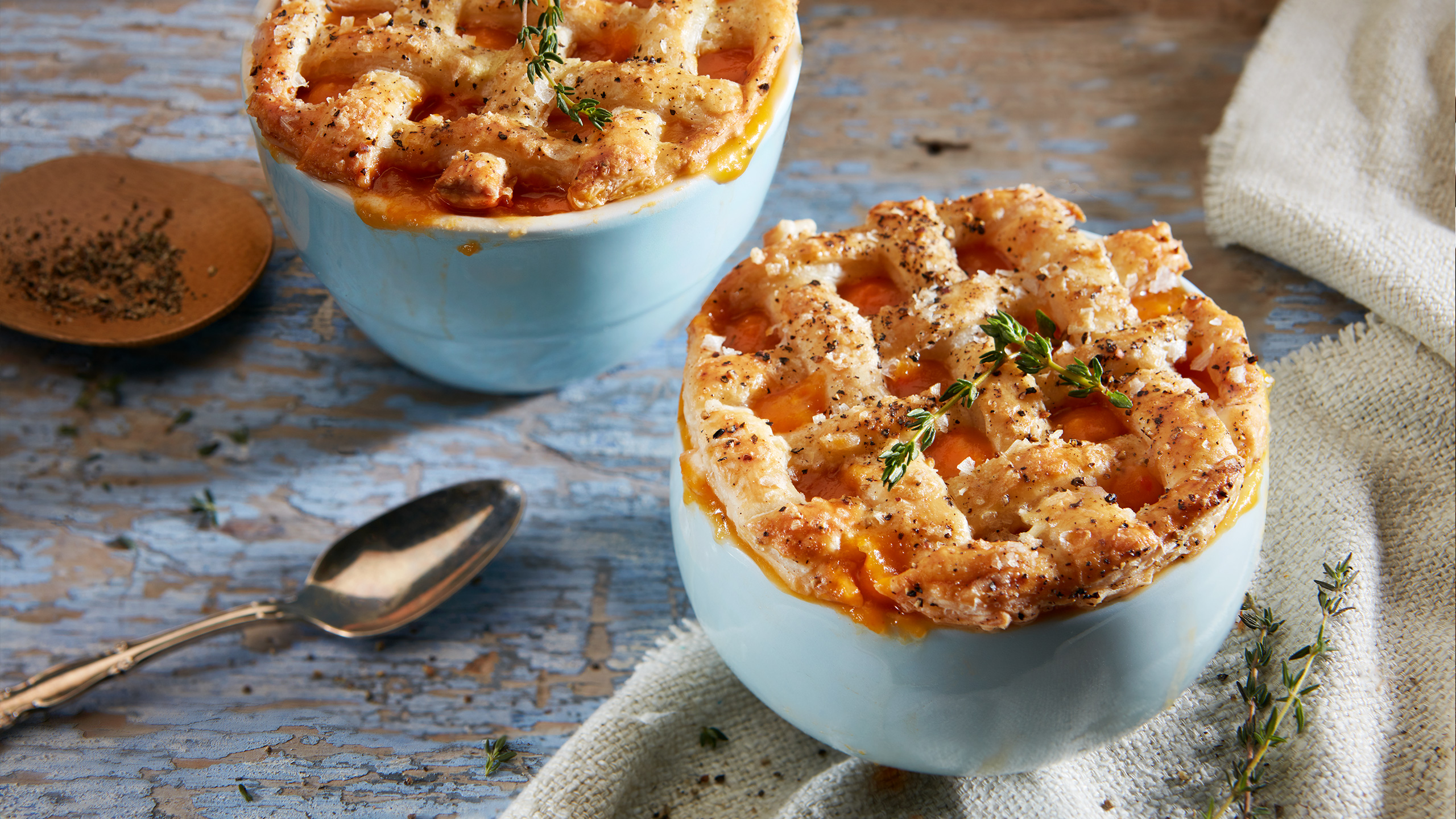 Apple and Squash Soup with Pastry Top
SERVES:

4

PREP TIME:

25

minutes
BAKE TIME:

50

minutes
TOTAL TIME:

75

minutes
ingredients
For the Lattice
1 Package Tenderflake® Puff Pastry
Coarse salt, cracked pepper and thyme for garnish (optional)
||
For the Soup*
1 Tbsp. (15ml) Olive oil
1 white onion, sliced
2 tsp (10ml) fresh ginger, peeled and chopped
1 clove of garlic, minced
1 tsp (5ml) ground cumin
2 cups (500ml) butternut squash, diced
2 granny smith apples, diced
1 red pepper
1 carrot, chopped
4 cups (946ml) chicken stock (vegetable stock may also be used instead)
directions
Thaw pastry according to package directions. Roll out pastry on a lightly floured surface to form a 9" x 12" (23 x 30 cm) rectangle.
In a heavy bottom pot add olive oil and sauté sliced onions for 3-4 minutes until soft. Add cumin, ginger, garlic, squash, apples, carrots and red pepper.  Add one tsp of salt and sauté for 5 minutes. Cover with stock and simmer for 30 minutes or until all ingredients are tender.  Puree with a hand blender and season with salt and pepper to taste.
While soup is simmering, preheat oven to 350°F. Cut both of the Tenderflake® Puff Pastry rolled out blocks into œ inch strips. Weave strips into a lattice. Place your serving bowl over the lattice and cut out a circle the same size as your bowl. Brush beaten egg onto each lattice circle and top generously with coarse salt, black pepper and thyme. Bake pastry separately in the oven for 20 minutes.
Fill 4 individual oven-proof bowls with soup mixture and then top each with the pre-cooked lattice circle.
Tips: *Alternatively, this soup recipe can be replaced with already prepared soup, which can be found in most grocery stores
*This recipe was previously made with Tenderflake® Rolled Puff Pastry Sheets and has been reformatted for the Puff Pastry Block.