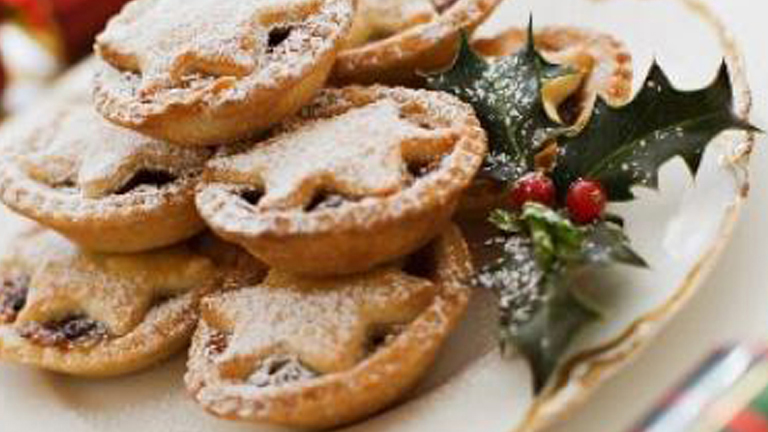 Apple Blackberry and Brie Tarts
PREP TIME:

60

minutes
BAKE TIME:

20

minutes
TOTAL TIME:

80

minutes
ingredients
2 Packages Tenderflake® Tart Shells, defrosted
2 tbsp (30 mL) Butter 4 Gala apples, peeled and chopped
2 cups (500 mL) Blackberries
.5 cup (125 mL) Honey
.5 cup (125 mL) Sugar
2 cups (500 mL) Red wine
3 Star anise
2 Cinnamon sticks
3 Whole cloves
.5 cup (125 mL) Walnuts, chopped
1 (300 g) Package Brie cheese
1 Egg Icing sugar to dust
directions
PREHEAT oven to 400°F (200°C).
REMOVE the tart shells from one of the packages; gently remove each from the aluminum cups. Place on a lightly floured work surface and flatten with your hand. Using a cookie cutter cut a star shape from each of the flattened shells. Place on a pastry sheet and refrigerate until ready to use.
HEAT a large saucepan over medium heat. Add butter and apples. Stir to coat then add blackberries, sugar and honey. Stir until sugar is dissolved. Add red wine, star anise, cinnamon and cloves. Bring to a boil. Reduce heat to low and simmer for 40 minutes. Skim away any foam that forms on the surface. Add chopped walnuts and cook for another 10 minutes. If there is still liquid remaining, increase the heat and remove the lid. Continue to cook until all of the liquid has evaporated. Remove the cinnamon sticks, cloves and star anise. Mash the fruit to make a chunky filling. Set aside to cool.
Cut the brie cheese in 1" (2.5 cm) cubes.
PLACE the tart shells on a parchment lined baking sheet. Add two cubes of cheese to each shell. Spoon 1 tbsp (15 mL) of filling over the cheese and top with a star shaped piece of pastry.
WHISK together the egg and water and brush the tops of the tarts.
BAKE for 18-20 minutes or until the tops are golden brown. Cool and dust with icing sugar.