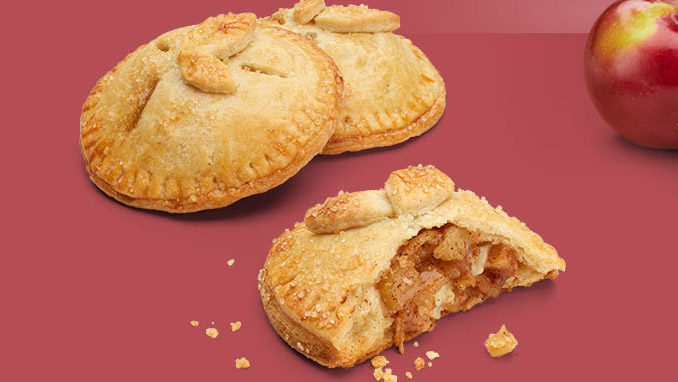 SERVES:

8

PREP TIME:

20

minutes
BAKE TIME:

17

minutes
TOTAL TIME:

37

minutes
ingredients
2 Tenderflake® Deep Dish Pie Shells thawed
1 Macintosh Apple (roughly two cups) peeled, cored and finely diced
3 tbsp. (45 mL) Turbinado Sugar reserve 1 tbsp. for topping
¼ tsp. (1 mL) nutmeg
½ tsp. (2 mL) cinnamon
1 tbsp. (15 mL) candied ginger finely chopped
1 cup (250 mL) 2 yr. Old Sharp Cheddar Cheese grated
1 egg yolk
1 tbsp. (15 mL) milk
directions
Thaw Tenderflake Deep Dish Pie Shell at room tempterature for 10-15 minutes.
Pre-Heat oven to 400F (200C). Line baking tray with parchment paper.
Remove first pie shell from the foil pie plate and place onto a lightly floured work surface; use a lightly floured rolling pin to gently flatten pie shell. Cut 4 circles using a 3-inch round cookie cutter, transfer to parchment lined baking tray. Re-roll scraps to make 4 more circles. Repeat with second pie shell.
*Reserve left over pie scraps to make decorative leaves.
In a small bowl stir together apple, sugar, spices, ginger and cheese.
Generously spoon roughly 1 tbsp. of apple mixture into the center of 8 pastries. In a small bowl whisk together egg yolk and milk and brush edges of filled pastries.
Top with remaining 8 pastry circles and press edges to seal. Use a fork to create a decorative edge.
Roll out reserved pastry to Πinch thick. Cut out leaf shapes using decorative leaf cookie cutters and place on top of each pie. Brush tops of pies with egg wash and cut three small slits around leaves to allow steam to escape.
Sprinkle each pie with reserved sugar and bake for 15-17 minutes until pastry is golden brown. Allow pastry to cool 10 minutes before serving. Enjoy.
Tips: *Tip: If you do not have decorative leaf cookie cutters. Cut different size oval shapes, creating a leaf template using the cardboard pie box. Roll reserved pastry into Πthickness, place leaf template on top and cut around shape. Using the back of a knife gently score a line down the center and small angled lines on either side of the center line creating the "vines" of the leaf.