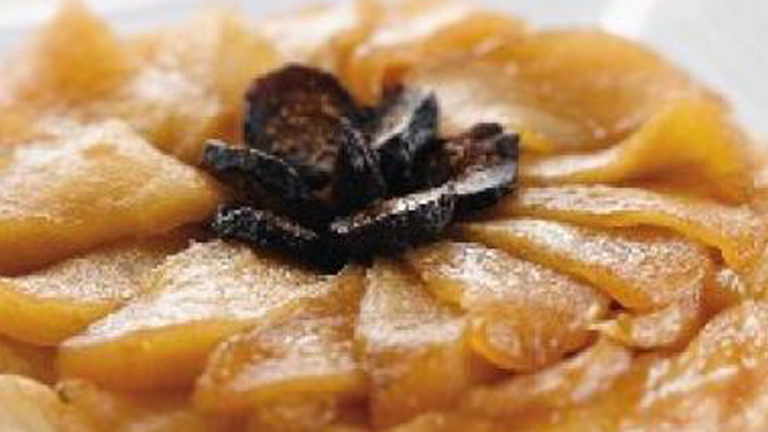 Apple-Ginger Tart With Candied Figs
PREP TIME:

20

minutes
BAKE TIME:

25

minutes
TOTAL TIME:

45

minutes
ingredients
.5 (397 g) Package Tenderflake® Puff Pastry
6 Dried figs, sliced horizontally into 3 pieces
1 inch, (2.5 cm) Piece fresh ginger, thinly sliced
.33 cup (80 mL) Sugar, divided
3 tbsp (45 mL) Water
2 Royal Gala apples, peeled, cored and thinly sliced
3 tbsp (45 mL) Cold butter, cut into very small cubes
4 tsp (20 mL) Honey
directions
ROLL out puff pastry on a lightly floured surface to a very thin 18"x14" (45×35 cm) rectangle. Using a small plate as a guide, cut pastry into four - 7" (18 cm) rounds. Transfer the rounds to parchment paper lined baking sheets. Cover and refrigerate for 30 minutes.
PREHEAT oven to 400°F (200°C).
PLACE figs and ginger in a small saucepan with Πcup (60 mL) sugar and water. Heat and simmer for 5-10 minutes over low heat until sugar dissolves and mixture begins to thicken. Set aside.
ARRANGE slices of apple, overlapping, on each of the pastry rounds, leaving a Œ" (5 mm) border. Sprinkle remaining sugar over the apples and top with butter. Bake in preheated oven for 20-25 minutes or until golden brown and apples are tender. Remove from oven.
DIVIDE candied fig and ginger mixture between tarts, placing in the mixture in the center of each. Drizzle 1 tsp (5 mL) honey over each tart and serve immediately.