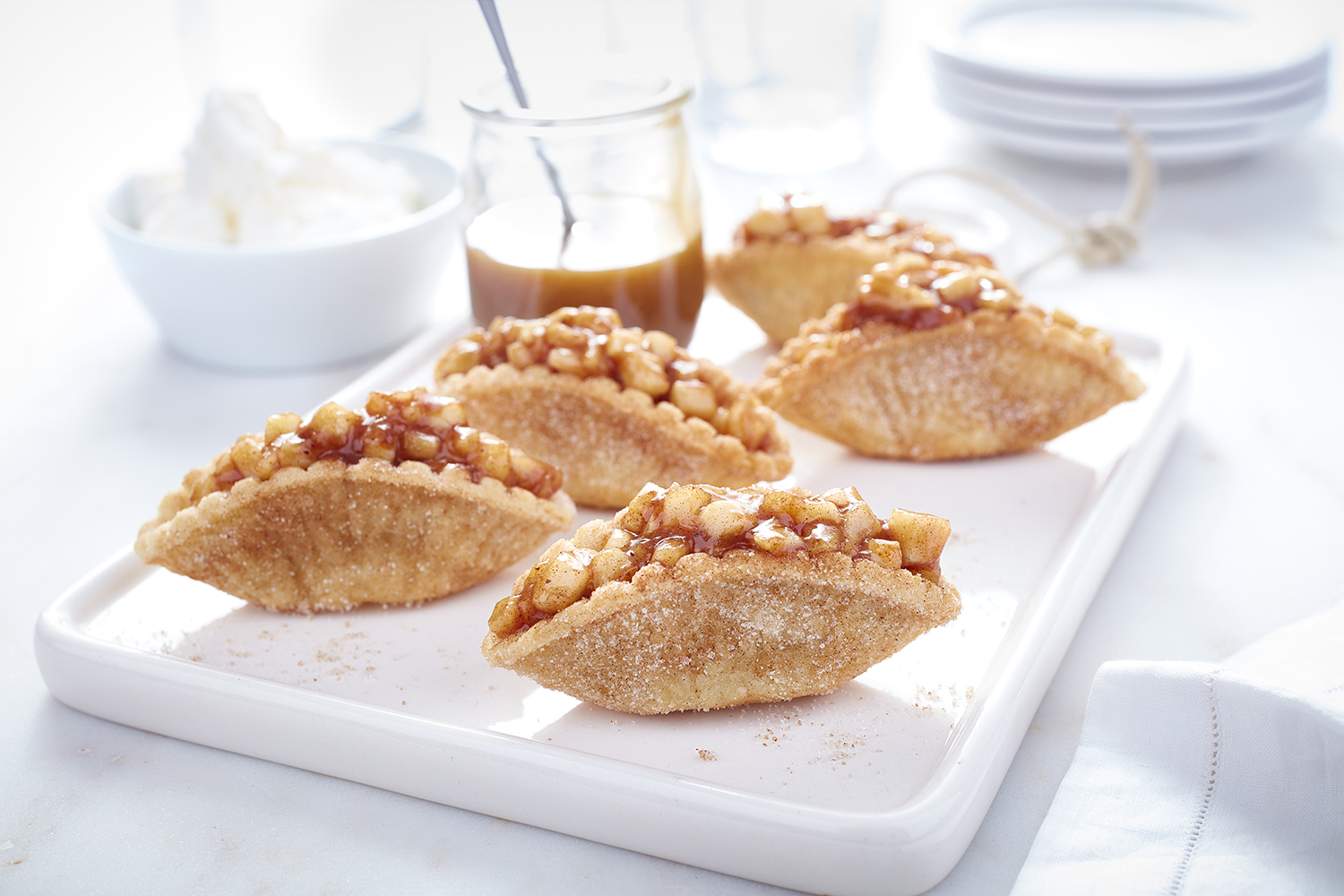 SERVES:

12

PREP TIME:

5

minutes
BAKE TIME:

25

minutes
TOTAL TIME:

30

minutes
ingredients
12 Tenderflake® Tart shells
½ cup (125 ml) sugar
2 tsp. (10 ml) ground cinnamon
3 tbsp. (45 ml) butter
3 apples, peeled and finely chopped, 2 cups
1 tbsp. (15 ml) all-purpose flour
1 tsp. (5 ml) vanilla extract
¼ tsp. (1.25 ml) nutmeg
¼ tsp. (1.25 ml) salt
1 tbsp. (15 ml) lemon juice
Caramel sauce for garnish
directions
Pre-heat oven to 375°F.
Thaw tart shells for 5 minutes. Leaving the tart shell in its foil container, gently press the sides of the foil tin together leaving a 1-inch opening, creating a taco shape. Bake for 12-15 minutes. Allow tarts to cool before removing them from foil shell.
In a small bowl, stir together 3 tbsp. (45 ml) of sugar and 1 tsp. (5 ml) cinnamon. In another small bowl melt 1 tbsp. (15 ml) of butter. Working with one tart shell at a time, brush with melted butter and sprinkle with cinnamon sugar and set aside. Repeat with remaining shells.
In another small bowl toss the apples with flour.
In a sauce pot over medium heat, add remaining sugar, vanilla, nutmeg, 1 tsp. (5 ml) cinnamon, salt and lemon juice. Cook for 2 minutes until sugar is dissolved. Stir in apples. Reduce heat to medium low and cook for 5-8 minutes, stirring until apples are softened. Remove from heat. Allow mixture to rest for 5 minutes.
Spoon warm apple filling into taco cups. Top with a spoonful of pecan ice cream and drizzle with warm caramel sauce.