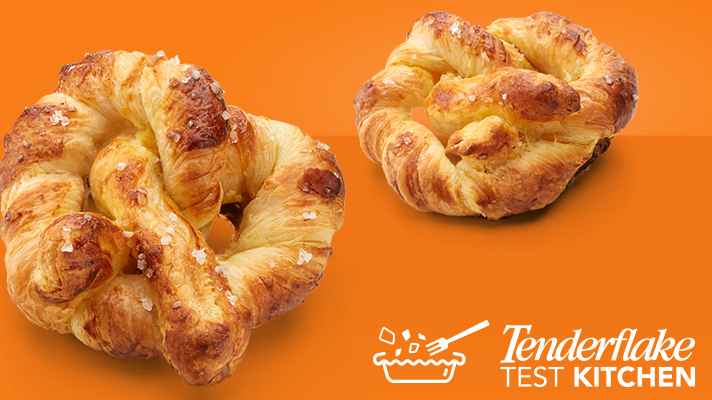 SERVES:

8

PREP TIME:

10

minutes
BAKE TIME:

20

minutes
TOTAL TIME:

30

minutes
ingredients
1 (397g) pkg. Tenderflake® Puff Pastry defrosted overnight in refrigerator
2 tbsp. (15 mL) yellow mustard
2 tsp. (10 mL) coarse salt
1 egg yolk
1 tbsp. (15 mL) milk
directions
Pre-heat oven to 450F (230C). Line a baking tray with parchment paper.
On a lightly floured work surface, use a lightly floured rolling pin to roll one block of pastry into a 6 x 10 inch rectangle. Slice pastry into 4, 1-inch strips lengthwise.
Evenly brush 1 Tbsp. of mustard over the 4 strips of pastry.
Working with one pastry strip at a time, gently pull and twist pastry creating a spiral affect and a 15-inch long rope. Place the rope on your work surface. Place the ends of the rope toward the top of your work surface and cross them. Cross again creating a twist, fold the twist back down over the bottom loop creating a pretzel shape. Transfer pretzel to the lined baking tray and continue with remaining strips. Repeat with second pastry block.
In a small bowl whisk egg yolk and milk together. Brush the tops of all 8 pretzels and sprinkle with salt.
Bake for 18-20 minutes until golden brown and puffed. Serve mustard along side pretzels for dipping. Enjoy!
Tips: Tip: Have fun trying different flavor's! Like Rosemary and parmesan cheese, cinnamon sugar or pizza pretzels with pizza sauce and shredded cheese!