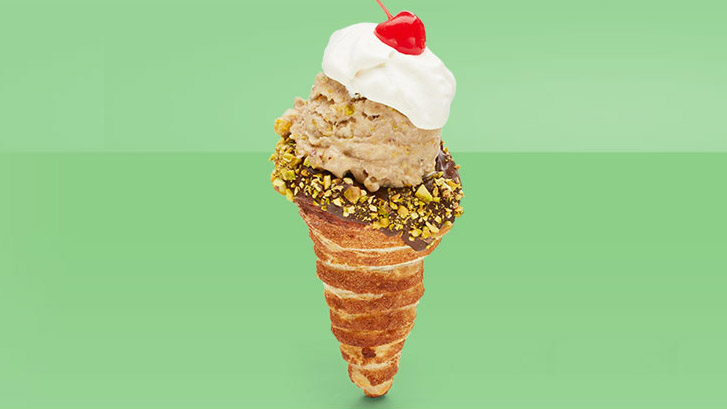 Banana Pistachio Ice Cream Cones
SERVES:

6

PREP TIME:

20

minutes
BAKE TIME:

15

minutes
TOTAL TIME:

35

minutes
ingredients
Cone Ingredients:
1 pkg. (397g) Tenderflake® Puff Pastry thawed
2 tbsp. (30 mL) sugar
1 tsp. (5 mL) cinnamon
1 egg yolk
1 tbsp. (15 mL) milk
2 cups (500 mL) dark chocolate chips
1/2 tsp. (2 mL) vanilla
6 waffle cones
Foil
||
Ice Cream ingredients:
9 Ripe Bananas
3/4 cup (175 mL) Pistachios finely chopped
||
Ice Cream Toppings:
6 Maraschino cherries with stem
1/2 cup (125 mL) 35% Whipping cream
directions
Pre-heat oven to 450°F (232°C). Line a baking tray with parchment paper. Wrap waffle cones in foil. In a small bowl stir together sugar and cinnamon and set aside.
Place one block of pastry onto a lightly floured surface, using a lightly floured rolling pin roll pastry into a 9 x 12, 1/8-inch thick rectangle. (You want to ensure the pastry isn't rolled out too thin.) Cut pastry into 6 strips, each strip at 1.5-inch lengthwise.
Starting at the tip of the cone wind one strip of pastry around overlapping the edges until you have reached the middle, continue wrapping cone with a second strip.
Whisk together egg yolk and milk in a small dish and brush pastry cones and sprinkle with cinnamon sugar. Transfer cones to lined baking tray and bake for 15 minutes until golden brown. Remove cones from oven and allow to completely cool.
Melt chocolate in a microwave safe bowl and coat the inside of each cone with 1 - 2 tbsp. of chocolate. Dip the top end into chocolate and sprinkle with reserved pistachios. Chill for 5- 10 minutes in fridge to harden.
Banana Ice Cream
Slice bananas into 1/4-inch rounds. Lay flat on a parchment lined tray and freeze overnight.
Place frozen bananas and into a large food processor. Pulse until crumbly. Add 1/2 cup of pistachios. Continue to blend until smooth.
Whip cream and vanilla until stiff peaks form. Scoop ice cream into cone, top with whip cream and a cherry. Serve immediately. (Ice cream excess can be placed into a flat re-sealable container and keep frozen until ready to use for next time!)
Tips: Buy your favourite store bought Ice Cream to save time!
try using toasted walnuts or toasted almonds
Drizzle with chocolate fudge or caramel for that added decadence.
Try using white chocolate chips or butterscotch chips for inside the cone.