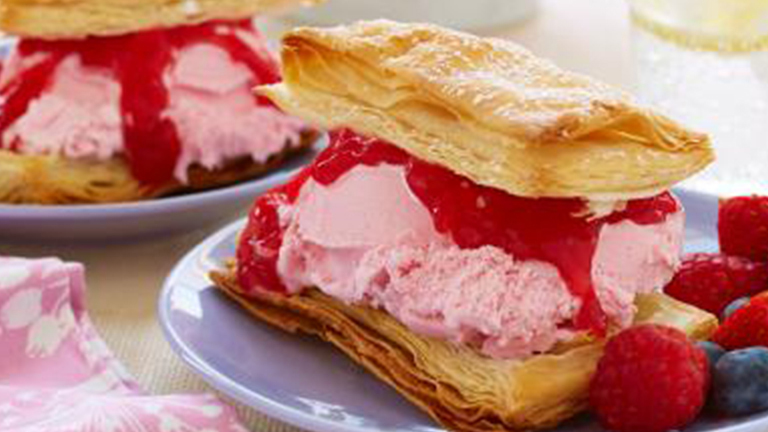 PREP TIME:

30

minutes
BAKE TIME:

20

minutes
TOTAL TIME:

50

minutes
ingredients
.5 (397 g) Package Tenderflake® Puff Pastry, thawed
2 (227 g) Containers fresh raspberries
1 tbsp (15 mL) Lemon juice
2 tbsp (30 mL) Sugar
.5 cup (125 mL) Water
2 tsp (10 mL) Cornstarch
2 tsp (10 mL) Water
1.5 cups (375 mL) Strawberry ice cream
Icing sugar, for dusting
directions
PREHEAT oven to 400°F (200°C).
ROLL out pastry on a lightly floured surface into a 9 x 12 inch (23 x 30 cm) rectangle. Cut pastry into four equal rectangles. Place on a parchment lined baking sheet. Cover with a piece of parchment paper and place a baking sheet on top of the pastry and paper to stop it from over puffing.
BAKE in preheated oven for 10 minutes. Remove top baking sheet and top parchment paper and continue to bake for 10 minutes or until the pastry in golden brown. Remove from oven to cool.
COMBINE raspberries, lemon juice, sugar, and 1/2 cup (125 mL) water in a pot over medium-high heat. Bring to a boil, reduce heat and simmer for 20 minutes.
PRESS raspberry mixture through a fine mesh strainer or sieve. Return strained mixture to the pot. Dissolve cornstarch in 2 tsp (10 mL) water, whisk into the raspberry mixture. Bring to a boil, whisking constantly until thickened, about 2-3 minutes. Let cool.CUT each pastry rectangle in half. Divide ice-cream between 4 pieces of pastry. Drizzle with cooled raspberry sauce, cover with remaining pastry. Dust with icing sugar and serve immediately.