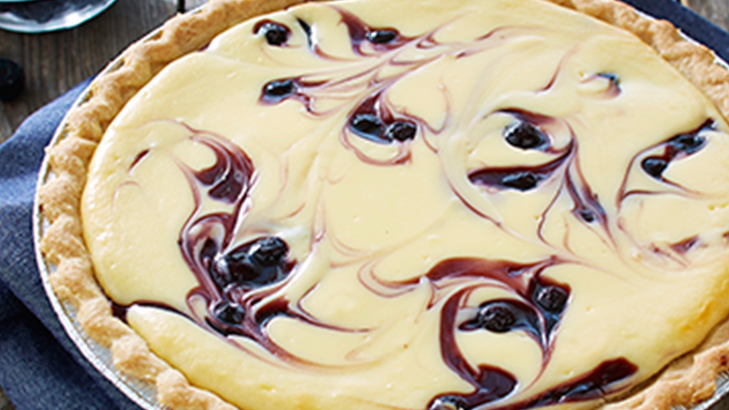 PREP TIME:

10

minutes
BAKE TIME:

45

minutes
TOTAL TIME:

55

minutes
ingredients
1 Tenderflake® Frozen Deep Dish Pie Shell, defrosted
1 ½ Pkg (12 oz/339 g) Cream cheese, room temperature
2/3 cup (150 mL) Sugar
1 Egg 1 Egg yolk
1/3 cup (80 mL) Sour cream
1 tsp (5 mL) Vanilla
1/2 cup (125 mL) Blueberry pie filling
1/2 pint Fresh blueberries
directions
PREHEAT oven to 400°F (200°C).
BAKE pie shell for 8 minutes. Remove from the oven and allow to cool on a rack.
MIX together cream cheese and sugar using an electric beater on medium speed. Beat until light and fluffy. Add eggs and beat to incorporate. Fold in sour cream and vanilla. Transfer half of the filling to the baked pie shell. Dollop half of the blueberry pie filling over top followed by the remaining cream cheese mixture and the remaining blueberry filling. Use a knife or skewer to swirl the blueberry filling through the cream cheese mixture creating a marbled effect.
PLACE the pie on a baking sheet and bake for about 35 minutes or until almost set. Transfer to a rack to cool. Refrigerate for at least four hours before serving. Garnish with fresh blueberries around the crust.