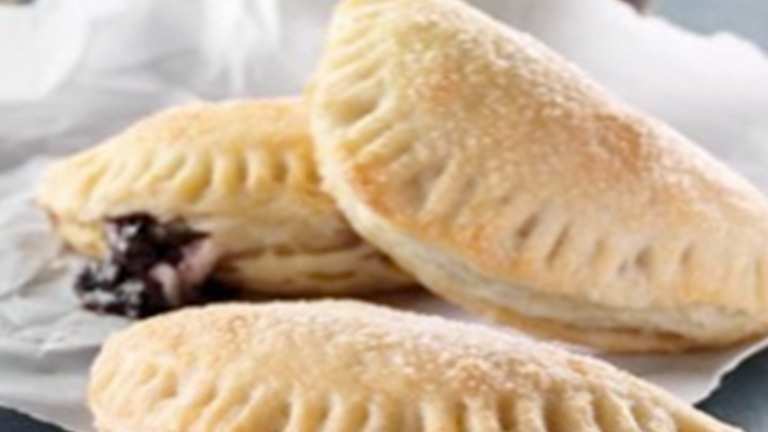 Blueberry Cheesecake Turnovers
PREP TIME:

15

minutes
BAKE TIME:

15

minutes
TOTAL TIME:

30

minutes
ingredients
2 Tenderflake® Frozen Deep Dish Pie Shells, defrosted
1 Egg
1 tsp (5 mL) Water
½ cup (125 mL) Frozen Europe's Best® Woodland Blueberries
¼ cup (50 mL) Mascarpone cheese
1 tsp (5 mL) Grated lemon zest
1 tsp (5 mL) Lemon juice
1 tsp (5 mL) + 1 tbsp (15 mL) Granulated sugar
1 tsp (5 mL) Vanilla extract
directions
PREHEAT oven to 400°F (200°C).
REMOVE pie shells from foil and place on a lightly floured surface. Roll each shell to Œ-inch (5 mm) thickness and cut into five 3-inch (7 cm) circles with a cookie cutter. After rounds are cut, using your fingers, gently work each round to stretch the pastry slightly and create a small indent in center.
BEAT together the egg and water and set aside with a pastry brush at hand.
GENTLY mix together blueberries, mascarpone cheese, lemon zest, lemon juice, 1 tsp (5 mL) sugar and vanilla extract.
SPOON 1 tsp (5 mL) of mixture in the center of each pastry round.  Moisten edges with reserved egg wash and fold each circle over to form an envelope.  Press together and seal with floured fork.
PLACE on baking sheet, brush with egg wash and sprinkle with remaining sugar.  Bake in preheated oven for approximately 15 minutes or until golden.  Allow to cool slightly before serving.