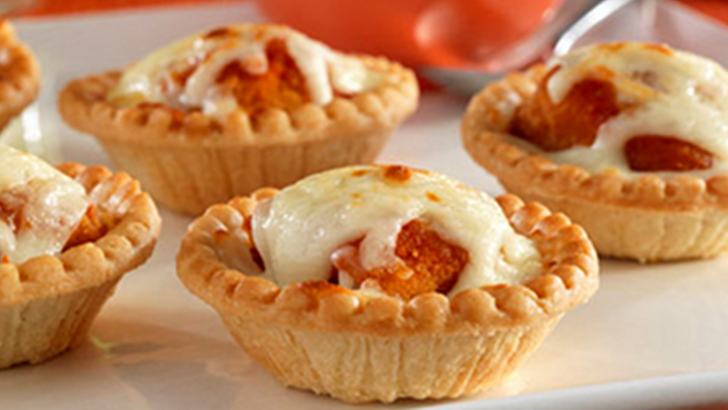 Buffalo Chicken Wing Tarts
PREP TIME:

10

minutes
BAKE TIME:

30

minutes
TOTAL TIME:

40

minutes
ingredients
1 Package (12) TENDERFLAKE® Frozen Tart Shells
12 Frozen small chicken nuggets
4 tbsp (60 mL) Softened cream cheese
4 tbsp (60 mL) Ranch salad dressing
.33 cup (75 mL) Buffalo wing sauce
1 tbsp (15 mL) Butter, melted
4 tbsp (60 mL) Shredded Mozzarella cheese
directions
PREHEAT oven to 375°F (190°C).
PREPARE tart shells as per package directions for unfilled tart shells. Set aside.
BAKE chicken nuggets according to package directions and allow to cool while prepping filling for tart shells. After baking nuggets lower oven temperature to 350°F (180°C) if necessary.
DIVIDE softened cream cheese equally between the prebaked tart shells. Use the back of a teaspoon to spread on the bottom of the shells. Top with 1/2 tsp (2 mL) ranch dressing.
MIX together melted butter and Buffalo wing sauce. Spoon 1/2 tsp (2 mL) into each tart.
PLACE a baked chicken nugget into each tart, and top with 1 tsp (5 mL) of Buffalo wing sauce mixture and 1/2 tsp (2 mL) ranch dressing.
PLACE tarts on a baking sheet and loosely cover with foil. Bake at 350°F (180°C) for 20 minutes.
REMOVE foil and sprinkle each tart with 1 tsp (5 mL) of shredded Mozzarella cheese.
Continue baking for 5-10 min or until cheese is melted and starting to bubble.