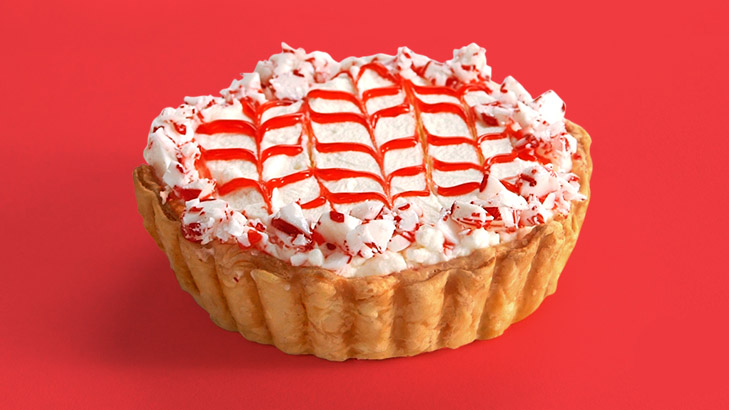 PREP TIME:

30

minutes
BAKE TIME:

15

minutes
TOTAL TIME:

45

minutes
ingredients
1 pkg. Tenderflake® Puff Pastry
1 cup (250 mL) white chocolate chips
3 ½ cups (875 mL) 35% cream
3 tbsp. (45 mL) icing sugar
1/2 tsp. (2.5 mL) cream of tartar
1/2 tsp. (2.5 mL) peppermint extract
Red pastry gel
1/2 cup (125 mL) peppermint candy, crushed
directions
Thaw both pastry blocks according to package instructions. Roll out pastries on a lightly floured surface to form a 9"x12" rectangle. Preheat oven to 425°F.
Using one of the rolled-out puff pastry cut 5, 4-inch circles and press pastry into tart molds. Use parchment paper to line the inside of pastry cups and fill with pie weights. Bake for 15 minutes. Remove parchment and pie weights and return to oven and bake for another 3 minutes. Allow pastry to cool completely. Repeat with second rolled out puff pastry block.
Heat œ- cup cream until steaming hot. In a medium sized bowl pour hot cream over chocolate chips and whisk until smooth. Stir in peppermint extract.
In a large mixing bowl, using an electric hand mixer with the whisk attachment; whip together 3-cups of whipping cream, icing sugar and cream of tartar until stiff peaks form. Working in batches, pour chocolate mixture over whipped cream and gently fold until fully combined. Chill in refrigerator until ready to use.
Fill pastry shells with whipped cream mixture. Draw lines over the mousse with the red pastry gel horizontally. Using a toothpick gently pull red coloring in the opposite direction through whipped cream creating a marble effect.
Garnish with peppermint candy. Keep refrigerated until ready to serve. Enjoy!
Tips: *This recipe was previously made with Tenderflake® Rolled Puff Pastry Sheets and has been reformatted for the Puff Pastry Block.