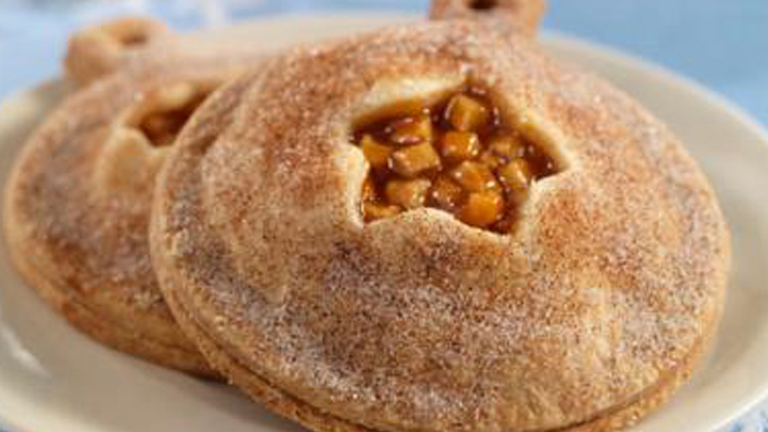 Caramel And Pear Pocket Pies
PREP TIME:

15

minutes
BAKE TIME:

15

minutes
TOTAL TIME:

30

minutes
ingredients
2 TENDERFLAKE® Frozen Deep Dish Pie Shells
1 tbsp (15 mL) Sugar
1 tsp (5 mL) Cinnamon
.33 cup (75 mL) Finely diced pear (or apple)
1.5 tbsp 22.5 mL) Prepared caramel sauce
1 tbsp (15 mL) Milk
directions
PREHEAT oven to 400°F (200°C).
REMOVE pie shells from freezer and allow to thaw at room temperature for 10 - 15 minutes.
COMBINE sugar and cinnamon in a small bowl and set aside.
REMOVE pie shells from foil onto a clean, flat, lightly floured work surface. If cracks appear in pastry, press together and repair using fingers moistened with water.
CUT out six shapes from each pie shell using a (2-3/4-inch x 4-inch/ 7 cm x 10 cm) cookie cutter. Set any leftover dough aside.
COMBINE pear and caramel sauce in a small bowl. Divide evenly between 6 cut outs, mounding in centre and leaving a Œ-inch (5 mm) border. Top with remaining cut outs. Gently press edges together, and crimp with a fork.
BRUSH tops lightly with milk, sprinkle with sugar cinnamon mixture and bake for 12-15 minutes, or until pastry is golden. Allow pies to rest for 10 minutes before serving.
Tips:
If dough gets too warm while preparing pies, refrigerate for at least 15 minutes before baking.
Substitute demerara sugar for the sugar/cinnamon mixture.
Use any leftover dough to cut out shapes to decorate top. Brush back with milk or egg wash to affix to pie and bake as directed above.
Decorate your pies with sprinkles by brushing top with milk or egg wash, adding your favourite sprinkles and bake as directed above.
Allow baked pies to cool completely if using decorative icing.