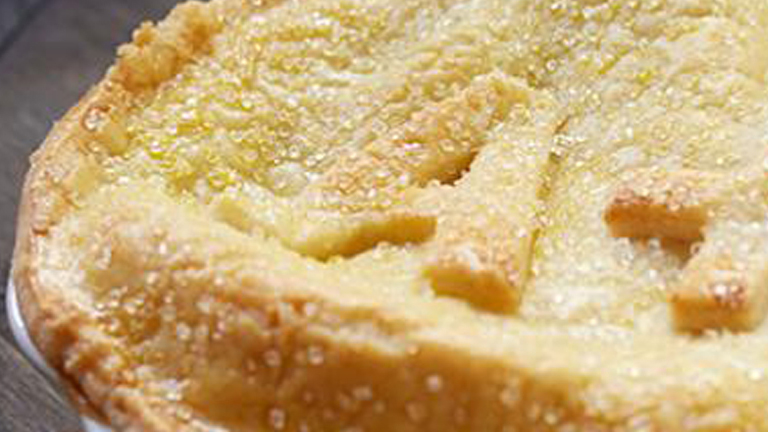 A+ Caramel Apple Pandowdy
PREP TIME:

15

minutes
BAKE TIME:

40

minutes
TOTAL TIME:

55

minutes
ingredients
2 Tenderflake® Frozen Deep Dish Pie Shells
.5 cup (125 mL) Brown sugar
2 tbsp (30 mL) Cornstarch
1 tsp (5 mL) Cinnamon
.125 tsp (.5 mL) Salt
5 Large apples, peeled and sliced into ½" (1.25 cm) wedges
2 cups (325 mL) Caramels, chopped
2 tbsp (30 mL) Milk or cream
1 tbsp (15-30 mL) Sugar
directions
POSITION a rack in the lower third of the oven. Preheat to 400°F (200°C).
COMBINE brown sugar, cornstarch, cinnamon, and salt in a large bowl. Add the apples and caramels and toss to coat.
DIVIDE the apple-caramel mixture between 4 - 4 œ-5" (10-12 cm) baking dishes and arrange on a baking sheet. Gently remove the pie shells from the foil. Place on a lightly floured work surface. Roll each round out to 12" (30 cm) in diameter. Cut out four rounds slightly larger than the baking dishes. With the remaining pastry, cut out "A+" shapes for decorating the tops.
Top each dish with a pastry round. Brush lightly with egg wash. Make a small slit in the center of each to allow steam to escape. Decorate the tops with A+ designs and brush them with egg wash. Sprinkle each pie with a dusting of sugar.
PLACE a sheet of foil over the top of the dishes and bake for 15 minutes. Remove the foil and continue to bake for 20-25 minutes or until the tops are golden brown.