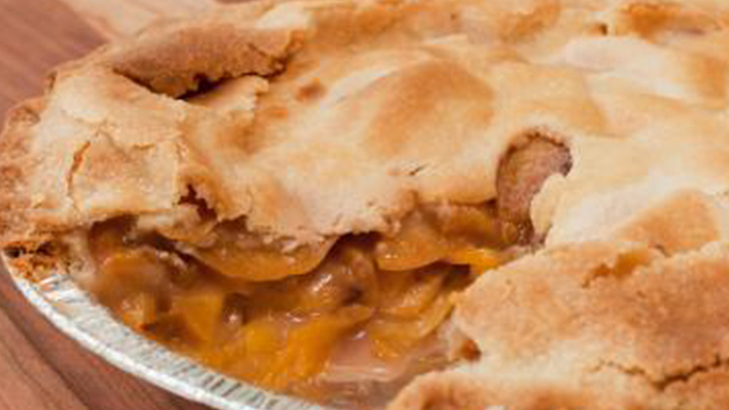 PREP TIME:

15

minutes
BAKE TIME:

35

minutes
TOTAL TIME:

50

minutes
ingredients
1 Pkg Tenderflake® Frozen Deep Dish Pie Shells, defrosted
3/4 cup (175 mL) Lightly packed brown sugar
1/3 cup (80 mL) All-purpose flour
1/3 cup (80 mL) Butter
3 tbsp (45 mL) Corn syrup
1 tbsp (15 mL) Lemon juice
6 Peaches, peeled and sliced
directions
PREHEAT oven to 425°F (220°C).
REMOVE pie shells from package and place one shell on a baking sheet and set aside. Using a small paring knife, gently pry the second piecrust from the foil pan and place on a lightly floured work surface. Using a lightly floured rolling pin, gently roll the crust to about 11"(28 cm) in diameter. Cut a small circle in the centre of the pastry and set aside.
COMBINE sugar, flour, butter, corn syrup and lemon juice in a small saucepan. Over medium-high heat, cook stirring constantly until the sugar has dissolved. Cool slightly.
ARRANGE peaches in the bottom of the pie shell. Carefully drizzle the cooled caramel over the peaches. Place the rolled pastry shell over top of the peaches. Pinch the top crust together with the bottom in a fluted fashion.
BAKE for 35 minutes or until peaches are tender and the crust is golden brown.