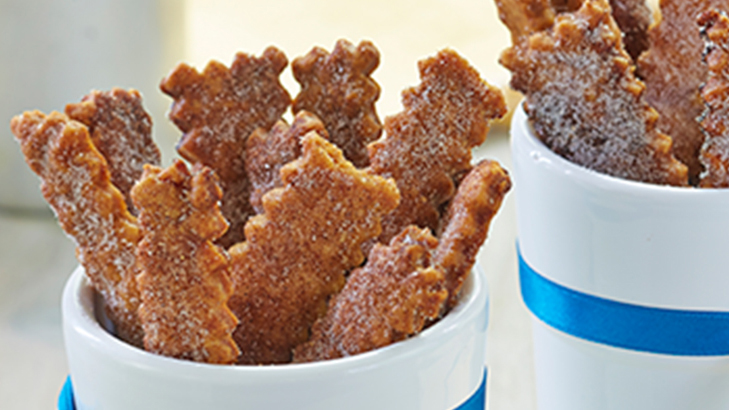 Carnival Cinnamon Pie Fries
PREP TIME:

10

minutes
BAKE TIME:

15

minutes
TOTAL TIME:

25

minutes
ingredients
1 TENDERFLAKE® Frozen Deep Dish Pie Shell
1 tsp (5 mL) Cinnamon
2 tsp (10 mL) Sugar
2 tsp (10 mL) Butter, melted
directions
PREHEAT oven to 400°F (200°C). Combine cinnamon and sugar in a small bowl and set aside.
REMOVE pie shell from freezer and allow to thaw at room temperature for 10 - 15 minutes.
REMOVE pie shell from foil onto a clean, flat, lightly floured work surface. If cracks appear in pastry, press together and repair using fingers moistened with water.
CUT out strips, approximately 1/2-inch x 3-inch (1 cm x 8 cm), using a fluted pastry cutter and gently place on a parchment lined baking sheet.
BRUSH pastry with butter and sprinkle with cinnamon mixture.
BAKE in preheated oven for 12-15 minutes, or until pastry is golden.