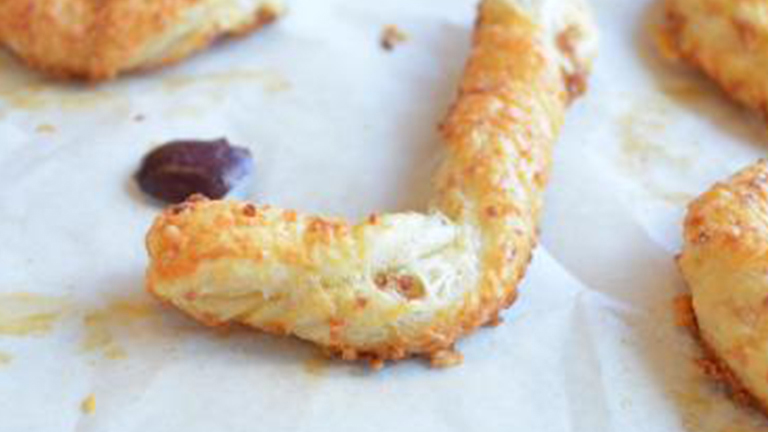 Cheesy Champion Hockey Sticks
PREP TIME:

15

minutes
BAKE TIME:

15

minutes
TOTAL TIME:

30

minutes
ingredients
1 (397 g) Tenderflake® Frozen Puff Pastry, defrosted
2 Eggs, beaten
1 1/2 cups (375 mL) Finely grated Cheddar cheese
1/2 cup (125 mL) Finely grated Romano cheese
8 Slices cooked bacon
directions
PREHEAT oven to 400°F (200°C).
ROLL each pastry square on a lightly floured sheet of parchment paper to a 10×12" (25×30 cm) rectangle. Brush with beaten egg.
PLACE bacon in a food processor and pulse until finely chopped. Combine with grated cheese. Sprinkle Πof the bacon and cheese mixture over the first pastry rectangle. Gently press cheese mixture into the pastry using your hands. Flip the pastry over using the parchment paper and repeat with egg wash and bacon-cheese mixture. Repeat with the other rectangle.
CUT each pastry, using a pizza cutter or very sharp knife, into 12 equal strips. Twist each strip into a spiral and cut in half. Place on a parchment paper lined baking sheet and shape into a hockey stick. Bake in preheated oven for 12-15 minutes or until golden brown and crisp.
Notes
Cut black olives into rounds to serve as little pucks.