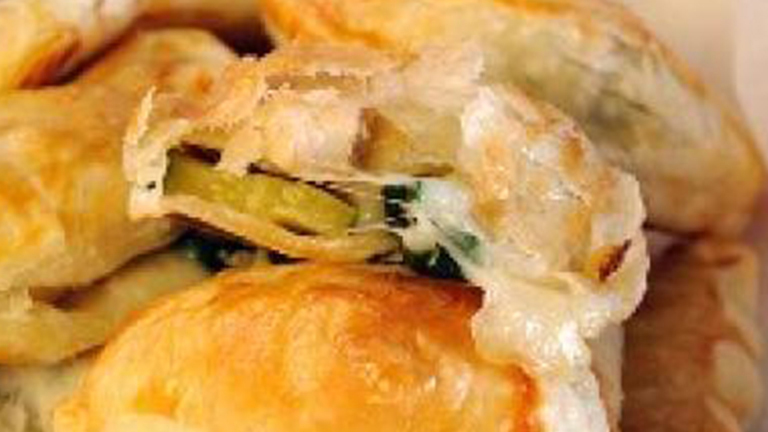 Chicken and Zucchini Pastries
PREP TIME:

10

minutes
BAKE TIME:

20

minutes
TOTAL TIME:

30

minutes
ingredients
1 tbsp (15 mL) Olive oil
1 Small onion, finely chopped
1 Medium zucchini, quartered lengthwise and cut into ¼" (5 mm) slices
1 (400 g) Package Maple Leaf Prime Naturally® Oven Roasted Chicken Breast Slices, finely chopped
1 cup (250 mL) Monterey Jack cheese
1 tsp (5 mL) Chili powder
1 tsp (5 mL) Garlic powder
1 Package (397 g) Tenderflake® Frozen Puff Pastry, defrosted overnight in the refrigerator
1 Egg, beaten
directions
PREHEAT oven to 375°F (190°C). Line a baking sheet with parchment paper.
HEAT oil in a large skillet over medium heat. Add onion and zucchini and cook until just tender. Remove from heat and cool slightly. Combine chicken, cheese, garlic powder, chili powder and onion-zucchini mixture in a large bowl.
ROLL out each square of pastry (1/2 package) on a work surface lightly dusted with flour to a 12×12" square (30 x30 cm). Cut twelve 4" (10 cm) circles from the pastry. Spoon about 2 tbsp (30 mL) of chicken mixture onto the center of each round. Brush the edges with egg. Fold each round in half crimping the open edge with a fork. Place pastries on prepared baking sheet and brush tops with egg mixture. Repeat with remaining square of pastry. Bake for 20 minutes or until golden brown. Cool slightly and serve.