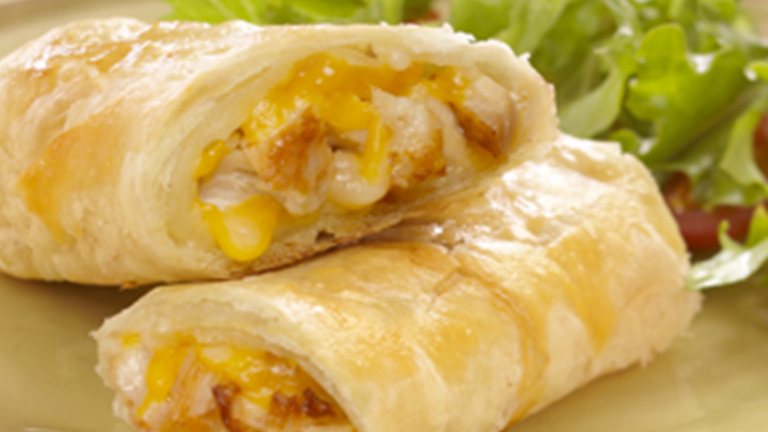 PREP TIME:

10

minutes
BAKE TIME:

20

minutes
TOTAL TIME:

30

minutes
ingredients
1 (150 g) Package PRIME® Fully Cooked Sliced Chicken Breasts, coarsely chopped
1-1/2 cups (375 mL) Grated Cheddar cheese
1 (397 g) Package Frozen Tenderflake® Puff Pastry, defrosted overnight in refrigerator
1 Egg, beaten
directions
COMBINE chicken and cheese and set aside.
DIVIDE puff pastry into 2 halves. On a lightly floured surface roll each half into a 10 X 14 inch (25 X 35 cm) rectangle. Cut rectangles in half lengthwise to make four 5 x 14 inch (12 x 35 cm) strips. Place 1/4 of filling along a long edge of one pastry strip. Fold pastry over filling and roll into a tube shape. Seal edge with beaten egg. Place seam side down on a parchment lined baking sheet and brush with egg. Repeat with remaining pastry strips and filling.
BAKE in preheated oven for 15-20 minutes or until golden brown.
Tips
Refrigerate any leftovers and pack in lunches the following day.
Experiment with other kid friendly fillings - chopped ham, pepperoni, Mozzarella cheese plus cooked or frozen vegetables they like.
Serve with a side salad.