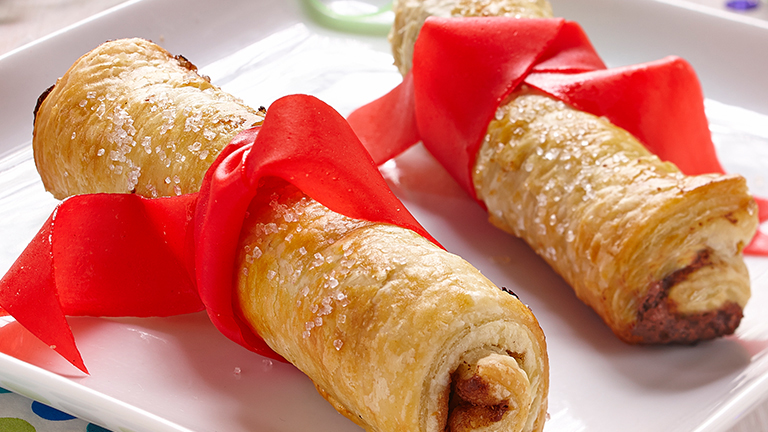 Chocolate Hazelnut Diplomas
PREP TIME:

10

minutes
BAKE TIME:

15

minutes
TOTAL TIME:

25

minutes
ingredients
1 pkg Tenderflake Puff Pastry, thawed
1 cup (250 mL) Chocolate hazelnut spread
½ cup (125 mL) Chopped toasted Hazelnuts
1 Egg yolk
1 tbsp (15 mL) Water
2 tbsp (30 mL) Coarse sugar
6 Strawberry Fruit by the Foot, halved
directions
Preheat oven to 400F (200C).
Roll out each sheet of pastry into a 10-inch (25 cm) square.
Divide chocolate hazelnut spread evenly over each sheet of pastry and sprinkle with hazelnuts.
Cut each piece into 6 rectangles. Roll up and place seam side down on a parchment lined baking sheet.
Whisk together egg yolk and water and brush over each scroll. Sprinkle each with coarse sugar and bake in the centre of the oven until puffed and golden, about 15 minutes.
Let cool. Tie a fruit strip around each to make a graduation diploma.