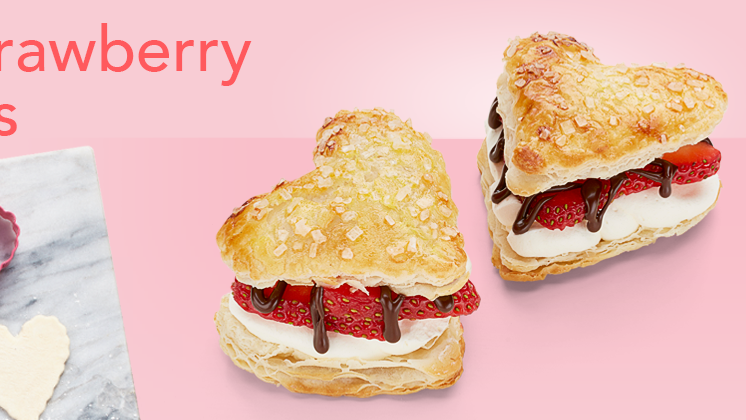 Chocolate Strawberry Cream Hearts
SERVES:

8

PREP TIME:

10

minutes
BAKE TIME:

35

minutes
TOTAL TIME:

45

minutes
ingredients
Tenderflake® Puff Pastry, thawed
1 Egg yolk
1 tbsp (15 mL) Water
2 tbsp (30 mL) Coarse sugar
1/2 cup (125 mL) Chopped dark chocolate
1/2 cup (125 mL) 35% Whipping cream
1 tbsp (15 mL) Confectioner's sugar
1 tsp (5 mL) Pure vanilla extract
16 Strawberries, sliced
directions
Preheat oven to 400F (200C).
Roll out each block of puff pastry into a 10-inch (25 cm) square on a lightly floured surface. Using a 2 œ-inch heart shape cookie cutter, cut 8 hearts from each sheet of pastry. If the pastry is hard to work with, chill in the freezer for 5 minutes. Arrange the hearts on a parchment lined baking sheet, about 1-inch (2.5cm apart)
Brush each pastry with the egg wash and sprinkle with sugar. Bake until puffed and golden, about 15 minutes. Let cool.
Melt chocolate in microwave in a small bowl (about 45 seconds), until melted and smooth.
Whip cream with sugar and vanilla until soft peaks with a hand mixer.
Assemble pastries by slicing each pastry in half crosswise with a serrated knife. Drizzle a teaspoon of chocolate in the middle of the bottom cut half of each pastry. Divide whipped cream and strawberries over each and drizzle remaining chocolate over the berries. Top with remaining pastry and chill until ready to serve.