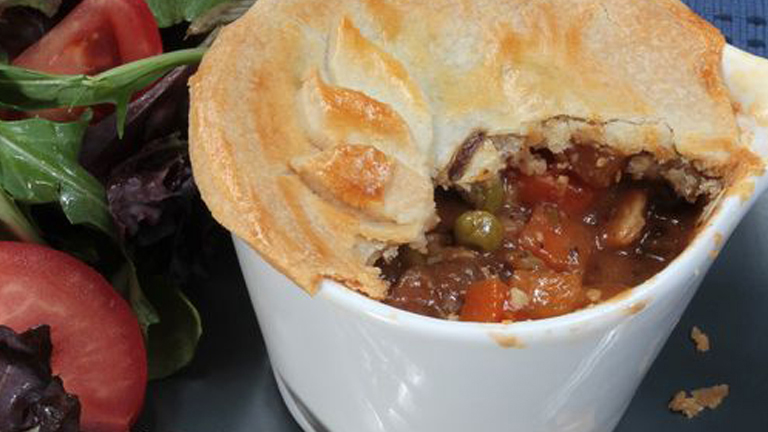 PREP TIME:

15

minutes
BAKE TIME:

45

minutes
TOTAL TIME:

60

minutes
ingredients
2 Tenderflake® Frozen Deep Dish Pie Shells, defrosted
1 Egg
2 lbs (900 g) Boneless leg of lamb
2-3 tbsp (30-45 mL) Vegetable oil
½ cup (125 mL) Flour
½ tsp (2 mL) Salt
½ tsp (2 mL) Pepper
1 Onion, chopped
2 Carrots, chopped
2 cups (500 mL) Rutabaga, chopped
2 Cloves garlic, minced
1 tbsp (15 mL) Tomato paste
1 tbsp (15 mL) Fresh rosemary, roughly chopped
1 tbsp (15 mL) Fresh thyme, roughly chopped
1 cup (250 mL) Red wine
1 tbsp (15 mL) Red wine vinegar
2 ½ cups (625 mL) Beef broth
1 tbsp (15 mL) Brown sugar
1 cup (250 mL) Frozen peas
directions
TRIM away any excess fat from lamb and cut into 1" (2.5 cm) cubes. Heat 1 tbsp (15 mL) oil in a large Dutch oven or heavy bottom pot. Toss cubes of lamb with flour, salt and pepper. Working in batches, brown lamb in pan until a golden brown crust forms on all sides. Remove from pan with a slotted spoon and set aside. Repeat with remaining lamb.
ADD more oil to the same pan if needed. Sauté onions, carrots, rutabaga and garlic for 6-7 minutes or until fragrant and tender. Stir in tomato paste and herbs. Continue to cook for one minute more. Deglaze the pan by adding the red wine. Scrape any of the bits from the bottom of the pan using a wooden spoon. Stir in red wine vinegar, beef broth and brown sugar. Add browned lamb back to the pot and bring to a boil. Reduce heat and simmer, covered for 1œ hours. Stir in peas and adjust seasoning. Remove from heat.
SPOON stew into six individual -1œ cup (375 mL) ramekins.
Whisk together egg and 1 tbsp water in a small bowl.
REMOVE pastry from foil trays and place on a lightly floured work surface. Using a lightly floured rolling pin, roll out each pie shell to 10" (25 cm) in diameter. Using a round cutter slightly larger than the diameter of the ramekins cut six pastry rounds. Brush the rims of the ramekins with egg wash and top with the pastry rounds. Press lightly to seal the edges. They will overhang the edge slightly. Brush the top with a bit more egg wash and cut a tiny slit in top to allow steam to escape. Decorate with leftover pastry if desired.
BAKE for 20-25 minutes or until the tops are golden brown.