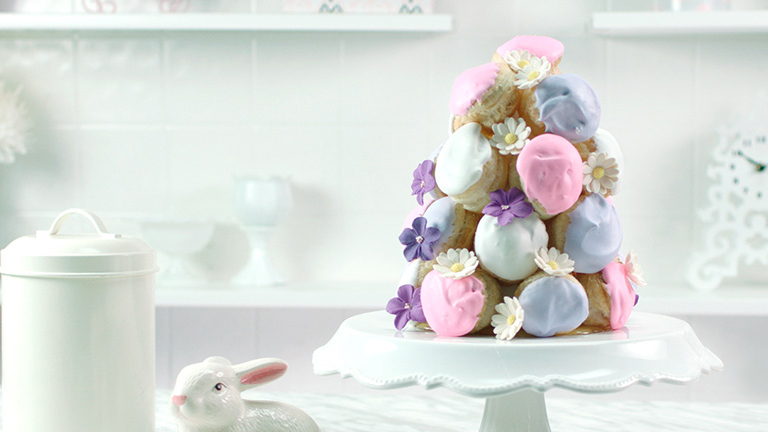 SERVES:

20

PREP TIME:

45

minutes
BAKE TIME:

20

minutes
TOTAL TIME:

65

minutes
ingredients
1 box of Tenderflake® Puff Pastry
3 egg whites
2 cups (500 mL) icing sugar
1 tbsp. (15 mL) lemon juice
Pink and purple food coloring
1 cup (250 mL) whipping cream
3 tbsp. (45 mL) lemon curd
2 cups (500 mL) sugar
1 cup (250 mL) water
3 tbsp. (45 mL) golden corn syrup
Gum-paste flowers, for decoration
directions
Thaw Pastry according to package instructions. Roll out pastries on a lightly floured surface.
Preheat oven to 425°F. Line baking sheet with parchment paper and set aside. Prepare cake stand with decorating cone and set aside.
Using one of the rolled out blocks, fold it into thirds (creating an approximate 3×9 inch rectangle). Gently press pastry with a lightly floured rolling pin to measure an approximate 4×10 inch rectangle.
Using a 2-inch round cookie cutter, cut out 10 circles and transfer to lined baking sheet. Repeat with the second rolled out block.
Bake pastry circles for 15-20 minutes or until golden and puffed. Cool completely before icing.
Using a hand mixer, beat together egg whites, icing sugar and lemon juice, in a medium bowl, until thick and icing coats the back of a spoon. Separate icing into 3 small bowls. Leaving one bowl with white icing, mix in the pink and purple food coloring* into each of the other bowls, creating two soft pastel colors. Spread icing onto the tops of each puff alternating colors and allow icing to fully set (approximately 10 minutes)
*Tip: Use any colour of food coloring that you prefer for any occasion.
In a small mixing bowl, using a hand mixer, beat whipping cream until soft peaks form. Gently fold in lemon curd until combined. Transfer cream into a piping bag fitted with a small round tip.
Poke a hole into the bottom of each puff and fill each with lemon cream.
In a small saucepan over medium high heat add sugar, water and corn syrup. Do not stir. Allow ingredients to come to a gentle boil reducing the heat to low. Simmer sugar until golden caramel in colour (approximately 15-20 minutes). Remove from heat and allow caramel to cool slightly.
To build the tower dip one puff at a time into sugar and place onto cake stand starting at the base of the cone. Repeat with remaining puffs, building up the cone slowly to allow sugar to harden between each placement. Decorate with gumpaste flowers. Serve and enjoy!
Tips: *This recipe was previously made with Tenderflake® Rolled Puff Pastry Sheets and has been reformatted for the Puff Pastry Block.