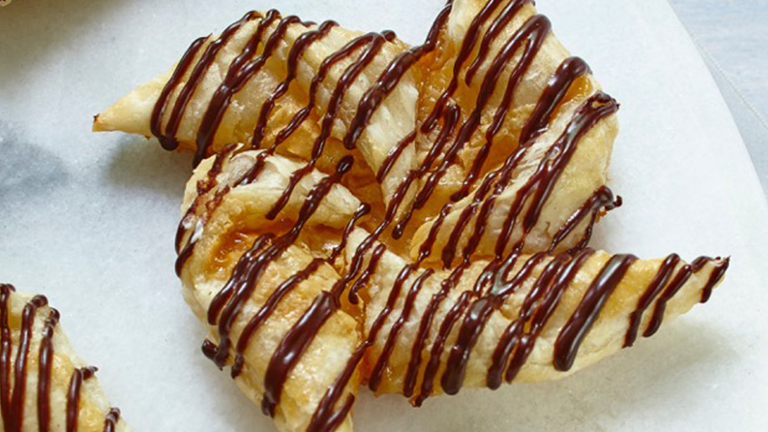 PREP TIME:

20

minutes
BAKE TIME:

15

minutes
TOTAL TIME:

35

minutes
ingredients
1 pkg Tenderflake Puff Pastry
½ cup (125 mL) prepared Dulche de Leche or Jam
1 egg, beaten
½ cup (125 mL) chocolate chips
¼ cup (60 mL) whipping cream
directions
Roll out each block of puff pastry into a 9-inch (23 cm) square. Chill  pastry in the freezer for 10 minutes to make it easier to work with.
Use a sharp knife to cut each square into nine 3-inch (7.5cm) squares to make a total of18 squares. Make a diagonal cut into each corner of each square leaving a 1-inch (2.5cm) space in the center. Place a teaspoon of dulche de leche in the center of each pastry and lift one half of a corner and fold it toward the center of the square, into the filling. Continue this around the square with the remaining 3 corners, finally pressing all four tips gently into the center to make a pinwheel.
Transfer to a parchment lined baking sheet and keep refrigerated while working on remaining pinwheels.
Arrange all of the pinwheels on 2 parchment lined baking trays about an inch apart. Brush with egg and bake into the top and bottom third of the oven, switching trays halfway, until puffed and golden, about 12 - 15 minutes. Remove from oven and cool completely.
In microwavable bowl, heat chocolate and cream on high for one minute. Whisk until smooth. Drizzle over cooled pastries.