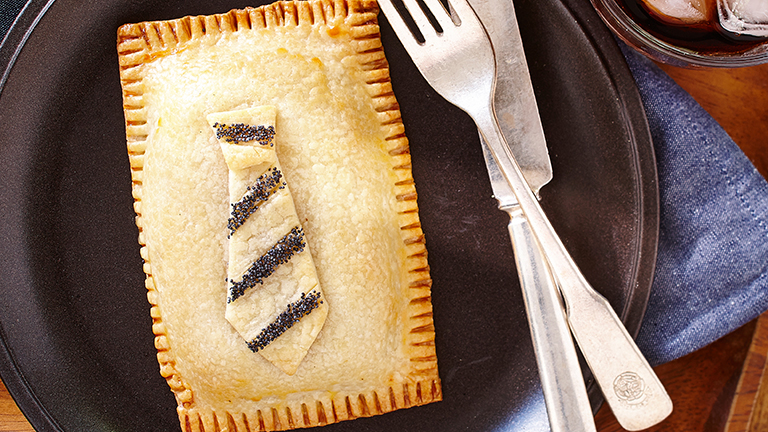 Father's Day Spicy Sausage & Sauerkraut in Puff Pastry
PREP TIME:

10

minutes
BAKE TIME:

20

minutes
TOTAL TIME:

30

minutes
ingredients
1 (397 g) Package Tenderflake® Puff Pastry, thawed overnight in the refrigerator
4 tbsp (60 mL) of Mustard
1 (300 g) Package of cooked Sausage of your choice, cut into ½ inch (1 cm) slices
1 cup (250 mL) Sauerkraut, drained
1 cup (250 mL) Grated Gruyere cheese
1 Egg
2 tbsp (30 mL) Water
directions
PREHEAT oven to 400°F (200°C). Line 2 baking sheets with parchment paper.
DIVIDE puff pastry into 2 halves. On a lightly floured surface roll each half into a 10 X 14 inch (25 X 35 cm) rectangle. Place each pastry on a parchment lined baking tray.
SPREAD mustard over pastry leaving a 1 inch (2.5 cm) border. Place sausage slices over mustard on one half of the longer side of each pastry. Sprinkle with sauerkraut and cheese. Beat together egg and water in a small bowl. Brush edges of each pastry with egg wash and fold pastry over to form a 5 X 14 inch (12 X 35 cm) rectangular. Lightly press edges to seal. Brush filled pastry with egg wash.
BAKE in preheated oven for 15-20 minutes or until golden brown. Slice into portions and serve immediately.