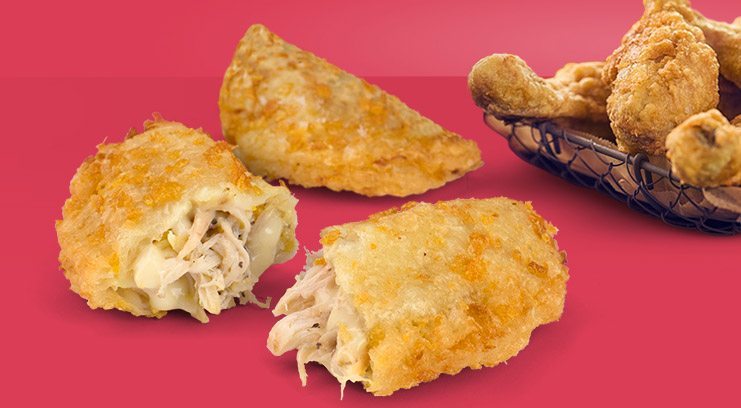 Fried Chicken and Gravy Pockets
SERVES:

8

PREP TIME:

15

minutes
BAKE TIME:

8

minutes
TOTAL TIME:

23

minutes
ingredients
1 pkg. of Tenderflake® Puff Pastry thawed
1 ½ cups (375 mL) Corn Flakes Cereal crushed
1 cup (250 mL) pre-cooked chicken shredded
2 tsp. (10 mL) pepper
2-½ tbsp. (38 mL) pre-made chicken gravy
1 egg yolk
1 tbsp. (15 mL) milk
2 cups (500 mL) vegetable oil for frying
1 tbsp. (15 mL) Sea salt flakes
½ cup (125 mL) sweet and sour chili sauce for dipping
directions
In a small bowl stir chicken and pepper together and set aside.
Place 1 cup of crushed cereal on surface and place pastry block on top. With a lightly floured rolling pin, flatten pastry into the cereal. Flip pastry over and add remaining cereal to your surface; continue to roll. Continue flipping and rotating pastry creating a 10×10 1/4 inch thick square. Cut 4 circles using a 4-inch round cookie cutter.
Spoon 1 tsp. of gravy into the center of each circle and top with chicken, roughly 1tbsp. Whisk egg yolk and milk in a small dish and lightly brush pastry edges: fold pastry in half and pinch the edges to seal. Using a fork, press down on the edges to create a tighter seal.
Heat oil to 375F. Fry each pocket for approx.1 minute until golden brown. Remove from fryer and place on top of paper towel and sprinkle with a pinch of salt. Repeat steps 3-5 with remaining pastry. Serve pockets warm with dipping sauce.