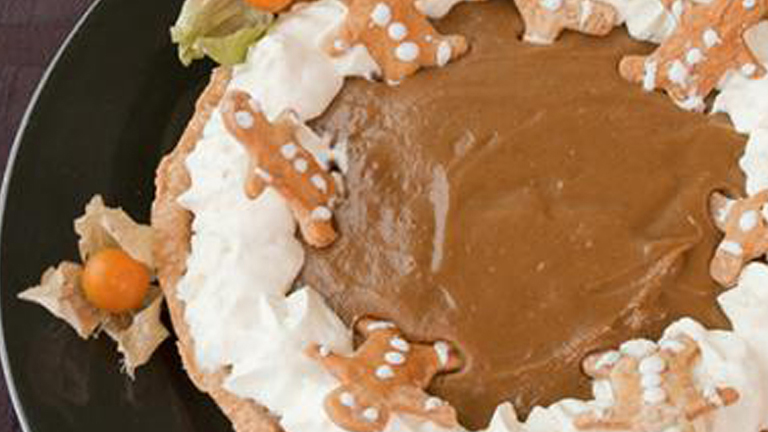 PREP TIME:

30

minutes
BAKE TIME:

480

minutes
TOTAL TIME:

510

minutes
ingredients
2 Tenderflake® Frozen Deep Dish Pie Shells, defrosted
1 Egg, lightly beaten
.33 cup (150 mL) Unsalted butter
.33 cup (150 mL) Brown sugar
.33 cup (150 mL) Whipping cream
.25 cup (60 mL) Molasses
3 Egg yolks
.25 cup (60 mL) Cornstarch
1 tsp (5 mL) Ginger
.25 tsp (1 mL) Nutmeg
.25 tsp (1 mL) Cloves
.5 tsp (2 mL) Salt
1.25 cup (300 mL) Milk
.5 cup (125 mL) Prepared Nutriwhip® Dessert Topping White icing for decorating
directions
PREHEAT oven to 375°F (190°C).
BAKE one pie shell according to package directions. Remove the second pie shell from the foil pan and place on a lightly floured work surface. Using a 2" (5 cm) - gingerbreadman shaped cookie cutter, cut 8-10 pieces and place on a parchment paper lined baking sheet. Brush lightly with egg and bake for 10 minutes or until golden brown. Remove from the oven and cool.
HEAT butter and brown sugar in a small saucepan over medium heat stirring occasionally until bubbly. Whisk in cream and molasses and stir until it begins to simmer.
WHISK together egg yolks, cornstarch, spices, salt and milk in a small bowl. Slowly add a small amount of the hot mixture into the egg mixture stirring constantly. Add the egg mixture back into the hot cream mixture and continue to stir over medium heat until thickened and just starting to boil.
POUR the filling into the baked pie shell. Cover the surface with plastic wrap directly on the filling and chill until set, at least four hours.
DECORATE the gingerbreadman cookie shapes with white icing. Top the pie with whipped topping and arrange gingerbreadman shapes on top just before serving.