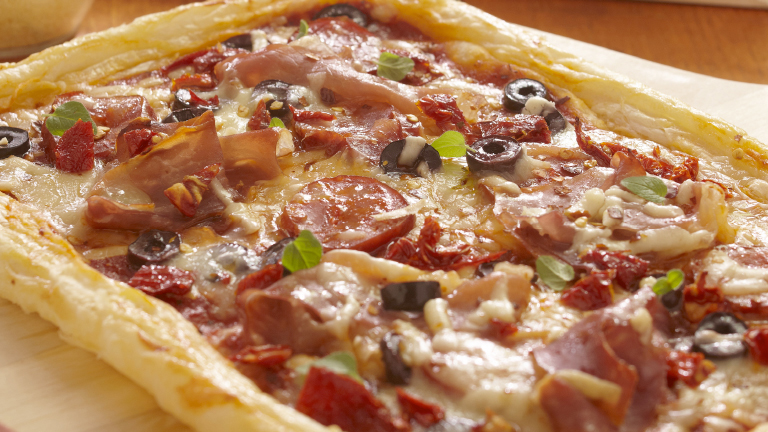 PREP TIME:

10

minutes
BAKE TIME:

20

minutes
TOTAL TIME:

30

minutes
ingredients
1 (397 g) Package Frozen Tenderflake® Puff Pastry, defrosted overnight in refrigerator
¼ cup (50 mL) Pasta sauce
½ cup (125 mL) Grated Mozzarella cheese
¼ cup (50 mL) Grated Asiago cheese
||
Kid Pizza Half:
1/3 cup (75 mL) Pepperoni slices
||
Adult Pizza Half:
3 Slices Proscuitto, cut in half lengthwise
6 Slices spicy salami
¼ cup (50 mL) Oil packed sun dried tomatoes, chopped
¼ cup (50 mL) Olives, sliced (green or black)
½ tsp (2 mL) Chili flakes
directions
PREHEAT oven to 375°F (190°C).
CUT puff pastry into 2 halves. On a lightly floured surface roll each half into a 10 X 14 inch (25 X 35 cm) rectangle and place on a parchment lined baking sheet. Fold edges in about 1 inch (2.5 cm) to achieve crust.
BRUSH each pizza crust with a thin layer of pasta sauce. Divide Mozzarella between pizzas; add kid and adult toppings and finish with a sprinkle of Asiago on each pizza.
BAKE in preheated oven for 15-20 minutes or until crust is golden and toppings bubbly.