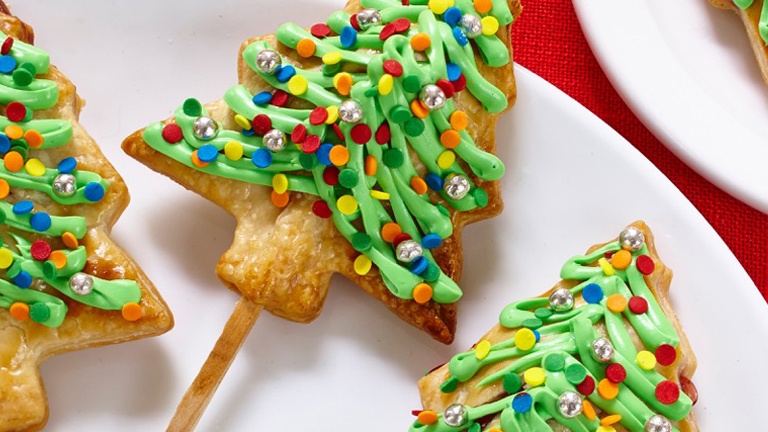 Holiday Tree Cherry Pie Pops
PREP TIME:

15

minutes
BAKE TIME:

35

minutes
TOTAL TIME:

50

minutes
ingredients
2 Tenderflake Deep dish Pie Shells
1 can cherry pie filling
12 White candy sticks
1 Egg yolk
1 tbsp (15 mL) Water
||
Glaze :
1 cup (250 mL) Confectioners sugar
1 tbsp (15 mL) Milk
1 tsp (5 mL) Almond extract
Green colouring paste
Coloured sprinkles
directions
Preheat the oven to 375F (190C). Line a baking sheet with parchment paper.
Roll out the pie crusts on a well-floured surface until it is 1/8-inch thick. Using a Tree cutter, cut out 12 trees from each crust. Place the trees onto the prepared baking sheet. If the dough becomes too soft, place the entire baking sheet into the refrigerator to chill.
Place about 1 tbsp (15 mL) of the cherry pie filling in the center half of the trees, leaving a border about 1/4-inch from the edges. Place the candy stick in the middle of the 12 trees through the filling and almost to the top. Take the remaining pastry trees and slightly stretch them out so they can fit over the filling. Crimp the edges with a fork to seal and use the tip of a paring knife to make vents in each pop. Chill for 15 minutes in the refrigerator.
In a small bowl, whisk together the egg yolk with the water. Brush the edges of all the rounds with egg wash.
Bake the tree pops until golden brown, about 20 minutes. Transfer to a baking rack and let cool.
In bowl, whisk together confectioner's sugar, milk and almond extract until smooth. Tint to desired colour with paste. Dip each pie pop into the glaze or brush on. Decorate with sprinkles as desired. Let dry on rack.