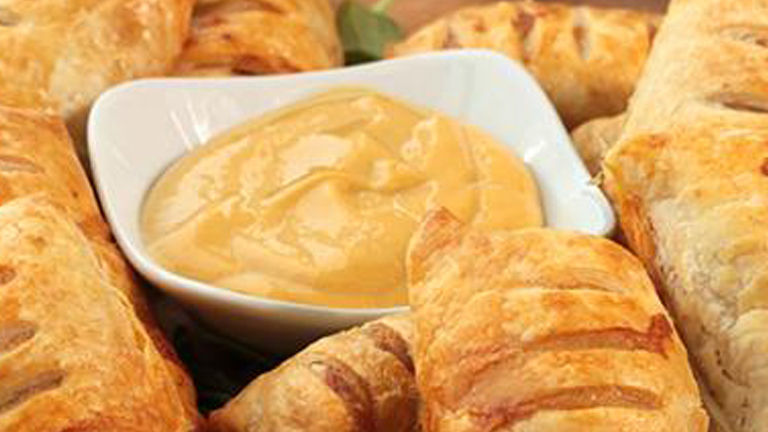 Hot Sicilian Sausage Rolls
PREP TIME:

15

minutes
BAKE TIME:

30

minutes
TOTAL TIME:

45

minutes
ingredients
1 lb (500g) Schneiders® Country Naturals® Hot Sicilian Countryside Sausage, casings removed
1 cup (250 mL) Grated Parmesan cheese
.25 cup (60 mL) Chopped fresh parsley
1 (397 g) Package Tenderflake® Frozen Puff Pastry, defrosted overnight in the refrigerator
1 Egg yolk
1 tbsp (15 mL) Water
1 tbsp (15 mL) Course salt
directions
PREHEAT oven to 400°F (200°C).
PLACE sausage meat, parmesan cheese and parsley in a large mixing bowl. Gently mix to combine. Set aside.
ROLL each puff pastry on a lightly floured surface with a lightly floured rolling pin into a 10"x14" (25×35 cm) rectangle. Cut each rectangle into six squares.
DIVIDE the sausage mixture equally between each pastry square. Fold in half and pinch the edges to seal in filling. Use a sharp knife to make a small slit in top of each roll to allow steam to escape while cooking. Transfer to a parchment paper lined baking sheet. Whisk together egg yolk and water in a small bowl. Brush over each pastry and sprinkle with salt. Bake in preheated oven for 25-30 minutes or until crisp and golden and the internal temperature of each roll reaches 160°F (71°C).