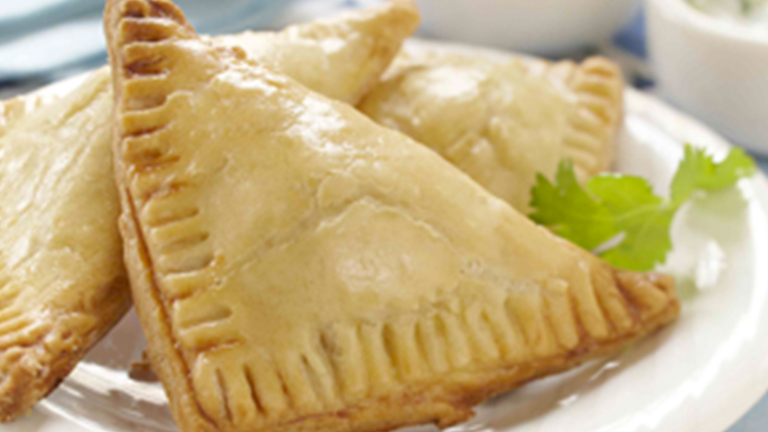 Indian Spiced Chicken and Potato Handheld Pies
PREP TIME:

25

minutes
BAKE TIME:

15

minutes
TOTAL TIME:

50

minutes
ingredients
2 TENDERFLAKE® Frozen Deep Dish Pie Shells
1/2 cup (125 mL) PRIME® Fully Cooked and Sliced Chicken Breasts or leftover chicken chopped into 1/4" (5 mm) dice.
1 tsp (5 mL) Olive oil
1 tbsp (30 mL) Grated onion
1 tsp (5 mL) Minced garlic
1/3 cup (75 mL) Grated Yukon potato
1 1/2 tsp (7 mL) Mild curry paste
1/4 cup (50 mL) Frozen peas
3 tbsp (45 mL) Water
5 tbsp (75 mL) 2% Plain yogurt
Salt and pepper for seasoning
1 Egg, beaten
directions
PREHEAT oven to 400°F (200°C).
REMOVE pie shells from freezer and allow to thaw at room temperature for 10 - 15 minutes.
HEAT olive oil in a small saucepan over medium high heat. Add onion, garlic and potato and sauté for 3 minutes. Add curry paste and continue to sauté until the potato starts to cook. Add peas and water and cook for 3 more minutes or until water is almost gone. Remove from heat and set aside to cool.
REMOVE pie shells from foil, and gently flatten onto clean, flat, lightly floured work surface. If cracks appear in pastry, press together and repair using fingers moistened with water. Cut each pie shell into 4 equal quarters.
COMBINE potato mixture with yogurt, diced chicken and salt and pepper. Divide the curry mixture evenly, about 1 heaping tbsp (20 mL) per pie. Mound the mixture in a strip lengthwise down the middle of the triangle leaving a 1/4" (5 mm) edge.
BRUSH beaten egg around the filling on edges of the pastry.
Fold pastry lengthwise, over top of filling, creating a narrower triangle. Gently press edges together and crimp with a fork.
BAKE for 12-15 minutes, or until pastry is golden. Allow pies to rest for 10 minutes before serving.