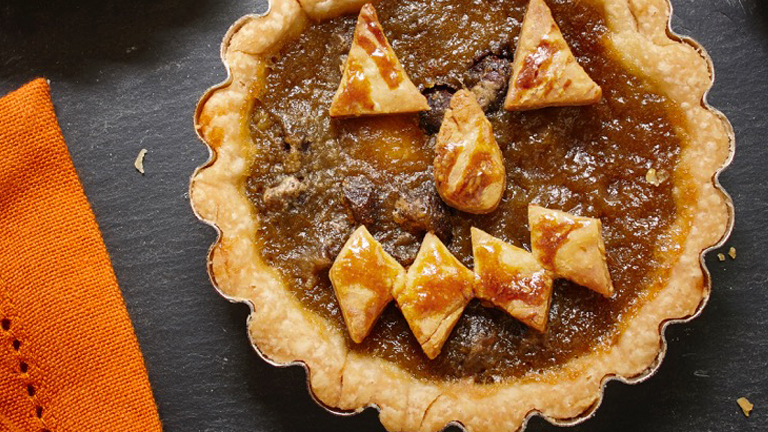 Jack-O-Lantern Butter Tarts
PREP TIME:

15

minutes
BAKE TIME:

85

minutes
TOTAL TIME:

100

minutes
ingredients
1 Pkg Tenderflake® Tart Shells
1/4 cup (60 mL) Raisins
1/4 cup (60 mL) Soft butter
1/4 cup (60 mL) Brown sugar
1/4 tsp (1 mL) Salt
1/2 cup (125 mL) Corn syrup
1 Egg, lightly beaten
1/2 tsp (2 mL) Vanilla
directions
BAKE tart shells according to package directions.
Roll out 2 tarts and cut out Jack-o-lantern eyes and mouth, bake with tart shells.
PLACE raisins in a small bowl and cover with hot water. Let stand about 30 minutes.
PREHEAT oven to 400°F (200°C).
CREAM together the butter, brown sugar, salt and corn syrup. Add egg and vanilla and mix well. Drain the raisins and divide between the tart shells. Pour the creamed mixture over top and bake for 15-20 minutes. The filling will be lightly browned and bubbly.
Place the pre-baked Jack-o-lantern faces on tarts and cool completely before serving.