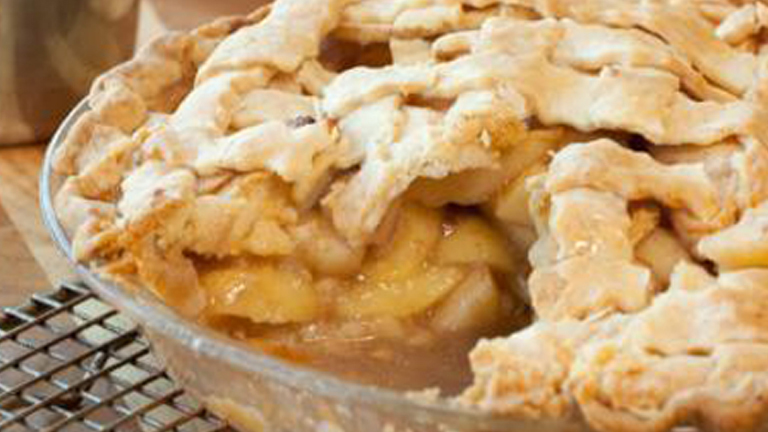 PREP TIME:

15

minutes
BAKE TIME:

55

minutes
TOTAL TIME:

70

minutes
ingredients
2 Tenderflake® Frozen Deep Dish Pie Shells, defrosted
3/4 cup (175 mL) Sugar
1/2 tsp (2 mL) Cinnamon Pinch of nutmeg
1 - 2 tbsp (15-30 mL) Flour
6 - 7 cups (1.5-1.75 L) Apples, peeled, cored and sliced thick
1 tbsp (15 mL) Lemon juice
2 tbsp (30 mL) Butter
1 Egg, lightly beaten
directions
PREHEAT oven to 425°F (220°C).
REMOVE pie shells from the package and place one shell on a baking sheet and set aside. Using a small paring knife, gently pry the second piecrust from the foil pan and place on a lightly floured work surface. Using a lightly floured rolling pin, gently roll the crust to about 11" (28 cm) in diameter. Cut the crust into œ" (1 cm) strips.
MIX sugar, spices and flour. Combine with sliced apples and place in the pie shell. Sprinkle with lemon juice and dot with butter.
Weave strips of piecrust on top of pie in lattice fashion. Trim ends of strips flush with edge of bottom crust. Tuck bottom crust over strips and flute edge with floured fork or fingers. Brush the egg over the top of the pastry. Bake in preheated oven for 15 minutes. Reduce heat to 350°F (180°C) and bake for 35-40 minutes or until apples are tender.