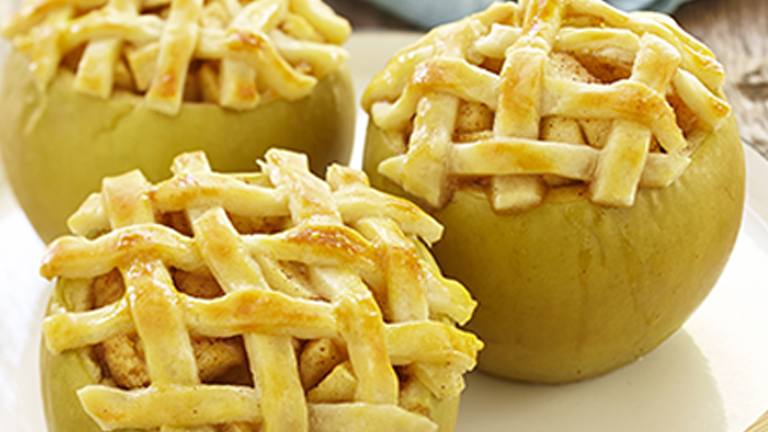 Lattice Topped Baked Apples
PREP TIME:

20

minutes
BAKE TIME:

40

minutes
TOTAL TIME:

60

minutes
ingredients
6 Granny Smith apples
1 tsp (5 mL) Cinnamon
3 tbsp (45 mL) White sugar
2 tbsp (30 mL) Brown sugar
1 Tenderflake® Frozen Deep Dish Pie Shell, defrosted
1 Egg, beaten
directions
PREHEAT the oven to 375°F (190°C).
CUT the tops off four of the apples and discard. Scoop out the inside of the apple using a melon baller or a sharp-edged measuring spoon. Be careful not to pierce the outside of the apple. Transfer the apple flesh to a 4-cup measuring cup. Peel and dice as much of the remaining apples to make 2 cups in total. Toss with cinnamon and sugars to coat. Fill the hollowed apples with the mixture.
REMOVE the pie shell from the aluminum foil plate to a lightly floured work surface. Cut the pastry into Œ" (.5 cm) strips. Cover each apple, in a lattice fashion with pastry strips. Place the apples in an 8×8" (2 L) baking dish. Add just enough water to cover the bottom of the pan. Cover with aluminum foil and bake for 20 minutes. Remove the foil and brush the pastry with egg wash. Sprinkle with sugar and continue to bake for another 20 minutes or until golden brown and the apples are tender.