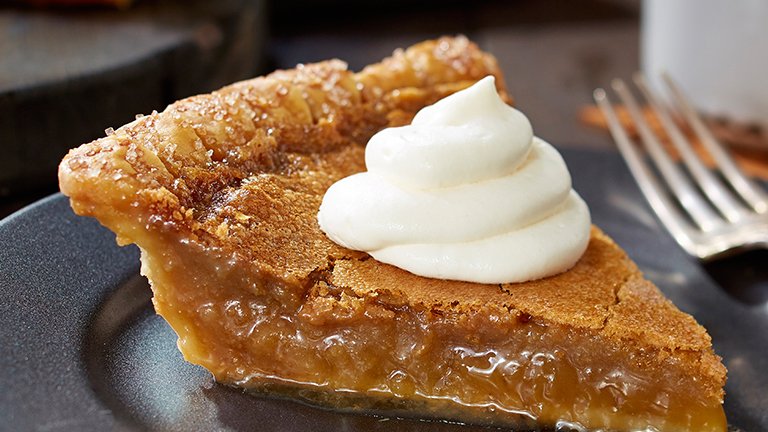 SERVES:

12

PREP TIME:

15

minutes
BAKE TIME:

60

minutes
TOTAL TIME:

75

minutes
ingredients
1 pkg. Tenderflake® Deep Dish Pie Shells
1 1/2 cups ( 375 mL) packed light brown sugar
2 eggs at room temperature
1/2 cup (125 mL) heavy cream
1/3 cup ( 75 mL) pure maple syrup (preferably dark amber)
2 tsp (10 mL) unsalted butter, melted
directions
DIRECTIONS
PREHEAT oven to 350°F.
REMOVE one of the Tenderflake® Deep Dish Pie Shells from the foil plate and place it on a clean, flat surface. Using a 1-inch teardrop pastry cutter, cut enough pieces to go around edge of pie shell.
BRUSH edge of remaining Tenderflake® Deep Dish Pie Shell with egg wash and arrange pieces, slightly overlapping with the rounded side along the outside edge until completely covered. Brush with egg wash and sprinkle with coarse sugar.
WHISK together brown sugar and eggs until creamy. Add cream, syrup, and butter, then whisk until smooth. Pour filling into pie shell.
BAKE pie in lower third of oven until pastry is golden and filling is puffed and looks dry but still trembles, 50 to 60 minutes. Cool on a rack to room temperature. (filling will set as pie cools).
Serve with whipped cream.