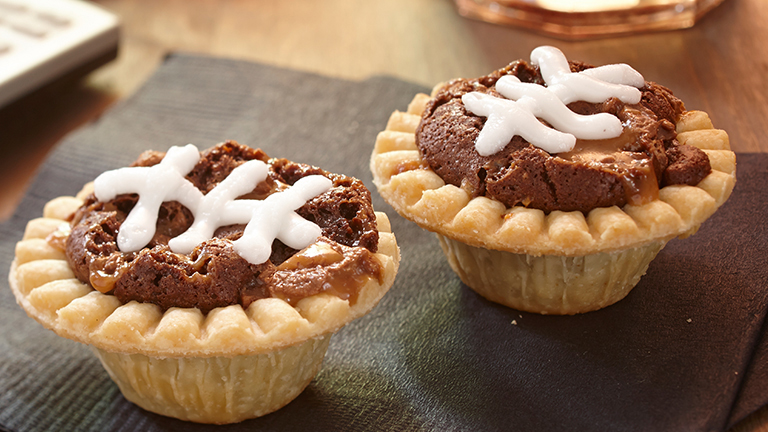 Mini Football Brownie Bites
PREP TIME:

10

minutes
BAKE TIME:

20

minutes
TOTAL TIME:

30

minutes
ingredients
1 pkg Mini Tart shells
½ cup dark chocolate, chopped
2 tbsp butter
½ cup granulated sugar
1 egg
1 tbsp vanilla
1 Skor bar, finely chopped
½ cup icing sugar
1 tbsp milk
directions
Preheat oven to 350F (180C) and arrange mini tart shells on a rimmed baking sheet. Set aside.
Melt chocolate with butter in a bowl until smooth. Stir in sugar, egg and vanilla.
Pour into tart shells and sprinkle with Skor bits. Bake in oven until puffed and pastry is golden, about 18- 20 min. Let cool completely.
In small bowl, whisk together icing sugar and milk. Pour into a resealable bag. Seal and snip a small corner from the bag. Pipe string lines over each tart to make it look like football stitching.