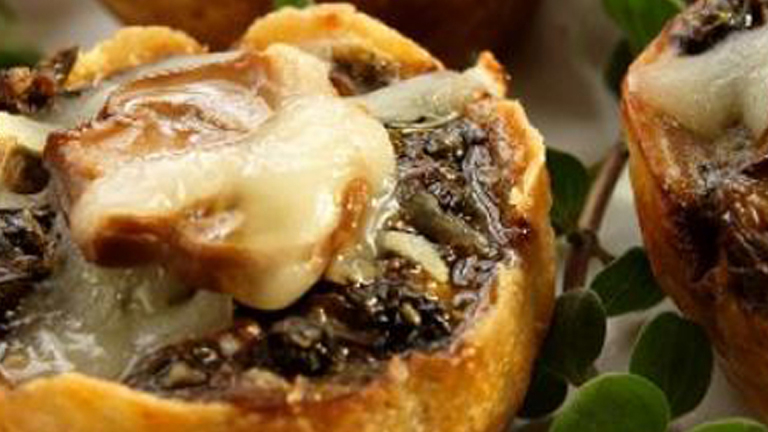 Mushroom And Cheese Tartlets
PREP TIME:

10

minutes
BAKE TIME:

25

minutes
TOTAL TIME:

35

minutes
ingredients
1 tbsp (15 mL) Butter
3 Small shallots, thinly sliced
5 cups (1.25 L) Sliced assorted mushrooms
2 Cloves garlic, minced
.25 cup (60 mL) Sundried tomatoes, packed in oil, drained and chopped
1 tbsp (15 mL) Oregano
Salt and pepper
.5 (397 g) Package Tenderflake® Puff Pastry, defrosted overnight in refrigerator
.5 cup (125 mL) Grated Italian cheese blend
directions
PREHEAT oven to 400°F (200°C). Arrange rack in bottom third of oven.
HEAT butter in large skillet over medium-high heat. Add shallots, garlic and mushrooms. Sauté for 5-6 minutes until golden brown and tender. Add sun dried tomatoes, oregano, salt and pepper. Stir to combine, remove from heat and allow to cool to room temperature.
ROLL puff pastry on a surface, lightly dusted with flour into a 9×13" (23×33 cm) rectangle. Using a 3" (7.5 cm) round cutter, cut into 12 rounds. Press each round gently into mini muffin tins. Fill with mushroom mixture and bake for 10 minutes. Sprinkle with cheese and bake an additional 10 minutes. Let stand for 5 minutes, remove from muffin tins and serve hot.