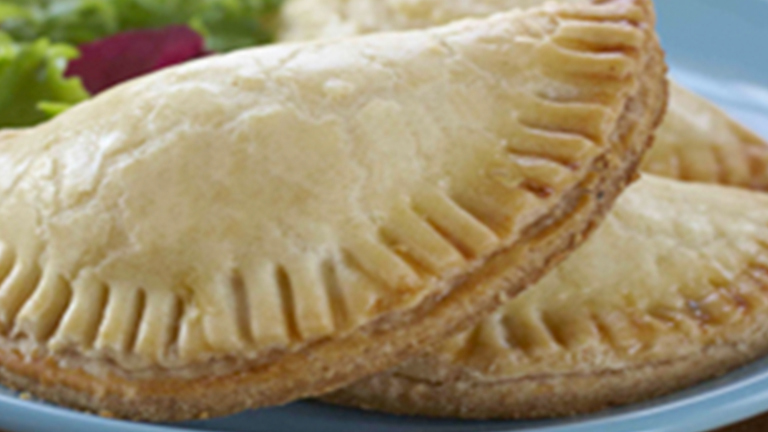 PREP TIME:

10

minutes
BAKE TIME:

40

minutes
TOTAL TIME:

50

minutes
ingredients
2 TENDERFLAKE® Frozen Deep Dish Pie Shells
8 Slices of Genoa salami, cut in half
4 Slices of deli oven roasted turkey, cut into quarters
2 tbsp (30 mL) Roasted red pepper, finely chopped
2 Small bocconcini, each cut into 4 slices 2 tbsp (30 mL) Basil, finely chopped
Freshly ground pepper
1 Egg, beaten
directions
PREHEAT oven to 400°F (200°C).
REMOVE pie shells from freezer and allow to thaw at room temperature for 10 - 15 minutes.
REMOVE pie shells from foil, and gently flatten onto clean, flat, lightly floured work surface. If cracks appear in pastry, press together and repair using fingers moistened with water. Cut out four 3-1/2 inch (9 cm) rounds from each pie shell.
PLACE on one half of each pastry round 2 stacked half slices of salami, 2 quarter slices of turkey, 1 slice of bocconcini cheese, roasted red pepper and chopped basil. Season with pepper.
BRUSH edges of pastry with beaten egg. Fold pastry over filling to create a half moon shape. Gently press edges together, and crimp with a fork. Brush tops lightly with beaten egg.
BAKE for 12-15 minutes, or until pastry is golden. Allow pies to rest for 10 minutes before serving.
Tips
Pick and choose family's favourite deli meats, cheese and condiments to customize the handheld pies.
Substitute 4 tsp (20 mL) grated Mozzarella cheese for the bocconcini cheese.