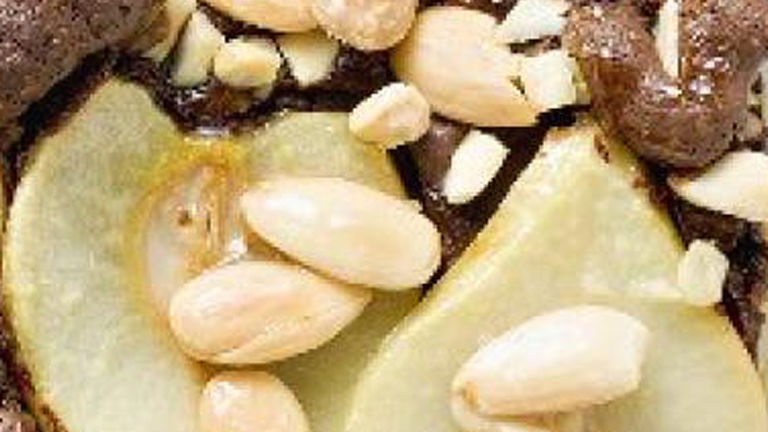 Pear, Chocolate And Almond Tart
PREP TIME:

30

minutes
BAKE TIME:

45

minutes
TOTAL TIME:

75

minutes
ingredients
6 Bosc or Bartlett pears
2 tbsp (30 mL) Lemon juice
1 (397 g) Package Tenderflake® Frozen Puff Pastry, thawed overnight in refrigerator
6 Squares semi-sweet chocolate, chopped
0.6 cup (150 mL) Chilled butter, cut into chunks
5 Eggs Pinch of salt
1.5 cups (375 mL) Icing sugar
.75 cup (175 mL) All-purpose flour
.75 cup (175 mL) Ground almonds
.5 cup (125 mL) Whole almonds, coarsely chopped
4 tbsp (60 mL) Honey
directions
PREHEAT oven to 400°F (200°C). Line a 12 œ x 17 œ inch (31 x 35 cm) jelly roll pan with parchment paper.
CUT pears in half and remove the core, drizzle with lemon juice and set aside.
ROLL pastry on a lightly flour surface, slightly larger than the size of the jelly roll pan. Carefully fit pastry into the pan.
MELT chocolate in a double boiler, remove from heat and gradually add butter mixing thoroughly. Set aside to cool.
SEPARATE the eggs. Beat the egg whites with a pinch of salt until soft peaks form. In a separate bowl, beat the egg yolks with icing sugar until mixture is frothy and a pale creamy colour. Combine the egg yolk mixture with the cooled chocolate mixture. Gently fold in beaten egg whites. Sift flour over top, add ground almonds and gently fold into egg mixture. Spread over pastry, leaving a 1/2 " (1 cm) margin around the edge. Place pears on top cut side facing upwards. Gently heat the honey and stir in chopped almonds. Drizzle over the pears.
BAKE in preheated oven for 40-45 minutes. Remove from oven and allow to cool in pan before slicing and serving.