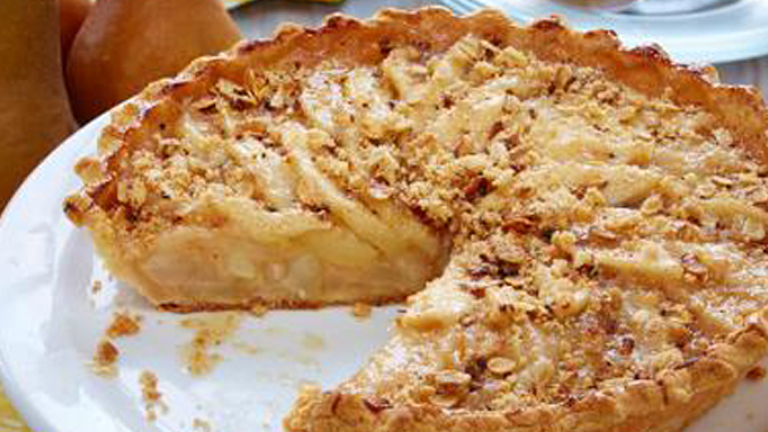 PREP TIME:

15

minutes
BAKE TIME:

55

minutes
TOTAL TIME:

70

minutes
ingredients
5 Bosc pears, peeled, cored and thinly sliced
3/4 cup (175 mL) All-purpose flour, divided
3/4 cup (175 mL) All-purpose flour, divided
½ tsp (2 mL) Salt
½ cup (125 mL) Sugar
1 tsp (5 mL) Cinnamon
1 tsp (5 mL) Vanilla extract
½ cup (125 mL) Rolled oats
1 cup (250 mL) Brown sugar
½ cup (125 mL) Butter
½ cup (125 mL) Chopped pecans
1 Tenderflake® Frozen Deep Dish Pie Shell, thawed
directions
PREHEAT oven to 325°F (160°C).
TOSS pears, Πcup (60 mL) flour, salt, sugar, cinnamon and vanilla together in a large bowl. Set aside.
COMBINE œ cup (125 mL) flour, oats and brown sugar in a bowl. Cut in butter with a pastry cutter or fingertips until mixture resembles large crumbs. Stir in pecans.
SPOON pear mixture into pie shell. Top with crumble mixture and place pie on a baking sheet. Carefully cover the edges of the crust with aluminum foil to prevent burning.
BAKE in preheated oven for 35 minutes. Remove foil and continue baking for an additional 15 to 20 minutes or until pastry and crumble are golden brown and pears are tender.