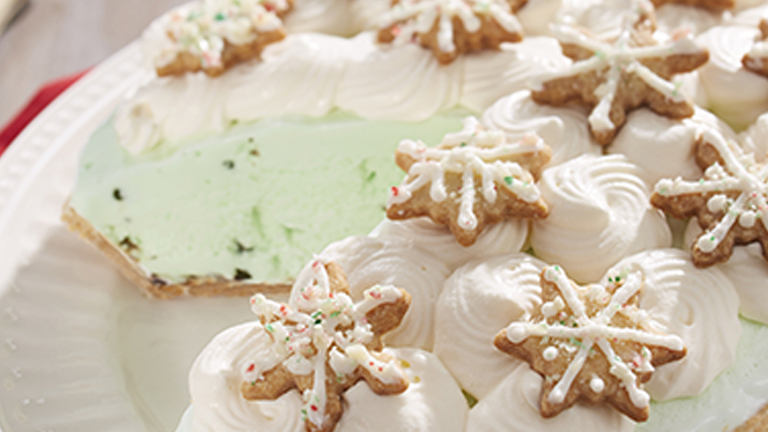 Peppermint Snowflake Ice Cream Pie
PREP TIME:

15

minutes
BAKE TIME:

75

minutes
TOTAL TIME:

90

minutes
ingredients
1 Pkg Package Tenderflake® Frozen Deep Dish Pie Shells
6 cups (1.5 L) Peppermint ice-cream
1 tbsp (15 mL) Fudge sauce
1 Pkg Whipped topping
1 Pkg Whipped topping 24 Pieces finely crushed peppermint candy
1 Tube decorative frosting
directions
PREHEAT oven to 400°F (200°C).
Place one of the pie shells on a baking sheet. Gently remove the second shell from the foil tray and place on a lightly floured work surface. Using a small snowflake cutter, about 1 œ" (3.5 cm), cut about 20 snowflake pieces from the piecrust. Place on a parchment paper lined baking tray. Bake the pie shell according to the package directions then bake the snowflake cut outs for 8 minutes or until golden brown. Cool completely.
REMOVE ice cream from the freezer and allow to soften slightly. Meanwhile, spread a thin layer of chocolate fudge sauce over the bottom of the pie shell. Spread ice cream over top of the fudge sauce and place in the freezer for at least an hour. Prepare the whipped topping according to the package directions. Spread whipped topping over the top of the pie.
DECORATE each snowflake with frosting, sprinkle with crushed peppermint dust and arrange artfully over the top of the pie. Serve frozen.