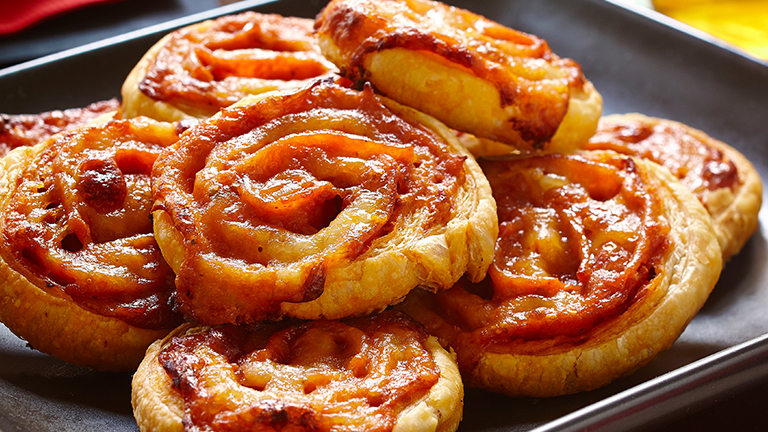 Pepperoni Pizza Pinwheels
PREP TIME:

15

minutes
BAKE TIME:

15

minutes
TOTAL TIME:

30

minutes
ingredients
1/2 (397 g) Package Tenderflake® Puff Pastry, defrosted
¼ cup (60 mL) Pizza sauce
1 cup (250 mL) Thinly sliced pepperoni
¾ cup (175 mL) Grated Mozzarella cheese
1/4 cup (60 mL) Finely grated Asiago cheese
1 Egg, beaten
directions
ROLL out puff pastry on a lightly floured work surface to form a 9" X 12" (23 X 30 cm) rectangle. Transfer to a parchment lined baking sheet.
SPREAD pastry with pizza sauce leaving a 1" (2.5 cm) strip on one of the longer edges. Layer the pepperoni over the sauce and top with grated cheeses. Lightly brush the bare edge with egg.
STARTING at the sauced long edge roll the pastry into a log, as tight as possible. Roll log tightly in parchment paper and refrigerate for 10-15 minutes.
PREHEAT oven to 400°F (200°C). CUT roll crosswise into 1/4" (1 cm) rounds. Place on a parchment lined baking sheet and bake in preheated oven for 15 minutes or until golden brown.