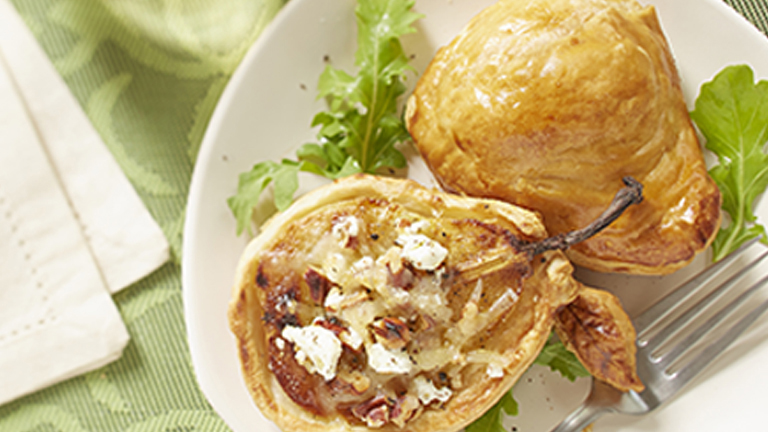 Perfect Pair - Pear Puffs
PREP TIME:

15

minutes
BAKE TIME:

25

minutes
TOTAL TIME:

40

minutes
ingredients
3 Medium, firm pears
1 tbsp (15 mL) Lemon juice
1 Package (397 g) Tenderflake® Frozen Puff Pastry, defrosted
1 Egg
||
FILLING:
1.5 cups (375 mL) Grated Swiss cheese
1 tbsp (15 mL) Freshly grated ginger
.5 cup (125 mL) Cambozola or Goat cheese, crumbled
.5 cup (125 mL) Pecans, toasted and chopped
directions
PREHEAT oven to 400°F (200 °C).
PEEL pears and cut in half. Remove the seeds leaving the stems intact. Using a teaspoon scrape out the inside of the pear. Save this for later. Brush the pear with lemon juice and place on a parchment paper lined baking sheet, cut side down.
REMOVE the pastry from the package and place on a lightly floured work surface. Using a lightly floured rolling pin, roll the pastry to a 10 x 12" (25 X 30 cm) rectangle. Cut pastry into 6 equal rectangles, slightly larger than the pears. Cover each pear with a piece of pastry. Using a sharp knife, cut away the excess leaving a well-covered piece of fruit. Save the extra to form little leaves. Pierce the pastry all over with a sharp knife or fork.
WHISK the egg with 1 tbsp (15 mL) of water. Brush the outside of the pastry on the pears with egg wash and use egg wash to adhere little decorative leaves around the stem of the each pear.
BAKE in preheated oven for 15-20 minutes or until golden brown. Remove from the oven and cool slightly.
PREHEAT broiler to high.
Mix all of the filling ingredients together in a small bowl along with reserved pear. Turn pears cut side up and divide filling between each. Broil for 1-2 minutes or until cheese is beginning to bubble. Serve immediately.