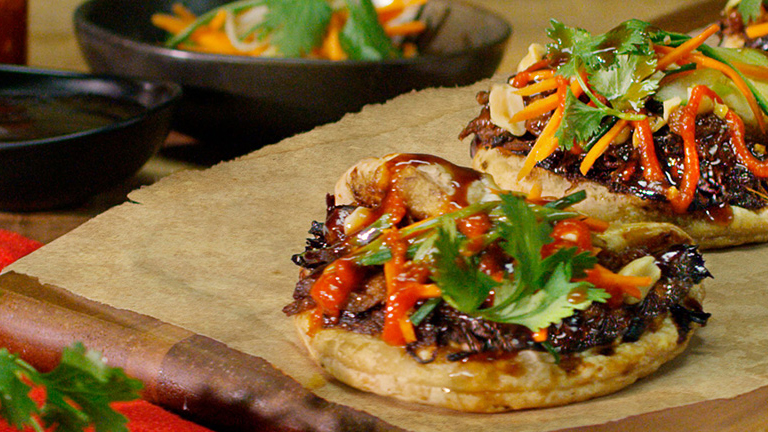 SERVES:

8

PREP TIME:

15

minutes
BAKE TIME:

235

minutes
TOTAL TIME:

150

minutes
ingredients
For the Bao
1 box Tenderflake® Puff Pastry
Flour for dusting
||
For the Pulled Pork*
¼ cup(60ml) honey
5 Tbsp. (74ml) soy sauce
¼ cup (59ml) hoisin sauce
3 Tbsp. (44ml) rice wine vinegar
1 Tbsp. (15ml) sesame oil
4 cloves garlic, minced
½ tsp (2.5ml) Chinese five-spice powder
1.5 lbs pork butt, cut into 2 inch cubes
||
For the Garnishes
1 medium carrot
½ a medium cucumber
2 green onions cut thinly on a bias
¼ cup(59ml) salted peanuts, chopped
¼ cup (59ml) fresh cilantro sprigs
½ cup(125ml) rice wine vinegar
2 tbsp. (30ml) sugar
Sriracha and hoisin (optional)
directions
Thaw pastry according to package directions. Roll puff pastries out on a lightly floured surface.
To make the filling, combine the honey, soy sauce, hoisin sauce, rice wine vinegar, sesame oil, garlic and five-spice powder in a large bowl and stir ingredients together. Add the pork butt and toss to coat. Place in a slow cooker, cover and cook on low for 2 hours or until meat is tender. Remove meat with a slotted spoon; shred with two forks. Skim off any excess fat on top of the sauce and discard the fat.
Transfer the sauce to a saucepan and bring to a boil. Let simmer for 5 minutes to reduce the sauce. Add the cornstarch and water mixture to the boiling sauce and cook, stirring, until the sauce thickens, about 2 minutes. Add the reserved meat to the sauce and set aside to cool.
Preheat oven to 400°F. Using a 4 " circular cookie cutter, cut 4 circles from one of the rolled out puff pastries. Repeat with the second pastry. Lightly dust each circle with flour and using a rolling pin gently roll into an oval. Place 3 Tbsp. (44ml) in the center and fold over half way so the meat is still exposed. Place on a parchment lined bake sheet and bake for 10-12 mins.
For garnishes, peel and cut the carrot and cucumber into thin matchsticks. Mix both together in a medium bowl.
Heat the rice vinegar and sugar in a small saucepan, just until the sugar has dissolved and allow to cool.  Pour over the carrot and cucumber mixture.
Tips: Garnish the pork baos with carrot and cucumber pickle, green onion, cilantro and peanuts. Drizzle with hoisin and sriracha to taste (optional).
*Alternatively, this pulled pork recipe can be replaced with already prepared pulled pork, which can be found in most grocery stores.
*This recipe was previously made with Tenderflake® Rolled Puff Pastry Sheets and has been reformatted for the Puff Pastry Block.