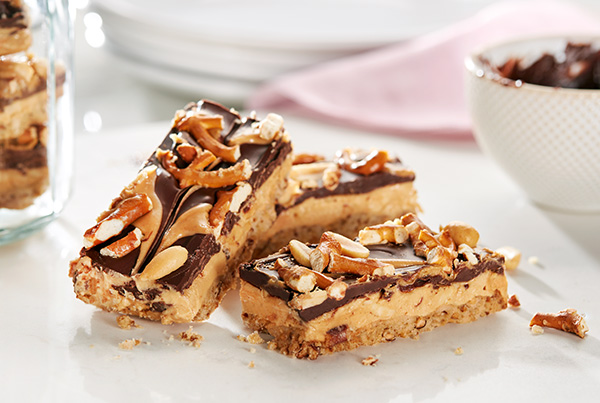 SERVES:

16

PREP TIME:

10

minutes
BAKE TIME:

20

minutes
TOTAL TIME:

35

minutes
ingredients
1 Tenderflake® Regular Pie Shell
3 cups (750ml) pretzels
1 egg, beaten
1 cup (250ml) creamy peanut butter, plus a ¼ cup for garnish*
1/2 cup (125ml) butter, softened
1 tsp (5ml) vanilla extract
3/4 cup (177ml) icing sugar
1 ½ cup (354ml) chocolate chips
½ cup (125ml) salted peanuts*
directions
Thaw pastry according to package directions.
Preheat oven to 350F. Line an 9" x 13" baking sheet with parchment paper.
In a food processor pulse the pretzels until broken up into œ inch pieces. Remove 1/2 cup (125ml) and set aside. Break the pie shell into pieces and add it into the pretzel mixture in the food processor. Pulse until combined. Add the beaten egg and pulse until dough comes together. Press the mixture into the prepared baking sheet.  Bake for 20 mins.
With an electric mixer or wooden spoon, beat together 1 cup (250ml) peanut butter, butter, and vanilla extract until creamy. Add icing sugar. Continue beating until well combined, add œ cup (125ml) peanuts. Spread over cooled pie crust.
In a microwave safe bowl, melt the chocolate chips in a microwave at 15 second intervals, stirring in between until smooth. In a separate bowl melt the remaining 1/4 cup (60ml) peanut butter
Pour the chocolate over the top and smooth with a spatula. Drizzle the peanut butter in lines, using a knife mix the peanut butter into the chocolate. Sprinkle with remaining 1/2 cup of crushed pretzels and Πcup (60ml) of peanuts.
Refrigerate for 2 hours before cutting into bars and serving. Store bars in an airtight container for up to 1 week.
Tips: *Recipe can be modified to include your favourite type of nut butter or nut butter substitute - Try it with almond butter and chopped salted almonds!