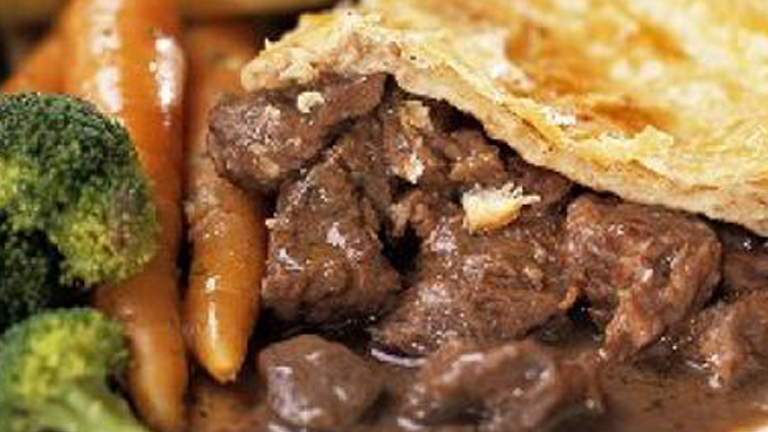 PREP TIME:

20

minutes
BAKE TIME:

40

minutes
TOTAL TIME:

60

minutes
ingredients
1.5 lbs (750 g) Stewing beef
2 tbsp (30 mL) Flour Salt and pepper
2 tbsp (30 mL) Vegetable oil, divided
2 Onions, diced
2 Leeks, chopped
2 Parsnips, diced
1 tbsp (15 mL) Tomato paste
2 Sprigs thyme
2 Bay leaves
2 tsp (10 mL) Worcestershire sauce
1 tbsp (15 mL) Balsamic Vinegar
1 cup (250 mL) Dark ale
1 cup (250 mL) Beef broth or water
.5 (397 g) Package Tenderflake® Frozen Puff Pastry, defrosted overnight in refrigerator
1 Egg, beaten
directions
TOSS beef with flour, salt and pepper in a large bowl.
HEAT half of the oil over medium-high in a heavy saucepan. Add beef and cook 1-2 minutes per side until golden brown all over. Do not overcrowd the pan, work in batches if necessary. Remove beef from pan and set aside.
ADD remaining oil to the pan. Cook onions, leeks and parsnips until soft, about 5-6 minutes. Add tomato paste stir and cook 1-2 minutes. Add thyme, bay leaves, Worcestershire, balsamic, ale, broth and browned beef. Stir to incorporate. Bring to a boil. Reduce heat and simmer on low for 1-1/2 hours or until beef is tender. Stir occasionally. Transfer mixture to a 9-inch (23 cm) pie plate and cool slightly.
PREHEAT oven to 400°F (200°C).
LIGHTLY flour a work surface and roll out pastry, 2 inches (5 cm) larger than pie plate. Place pastry on top of beef mixture. Turn edges under and pinch to ensure a good seal. Brush top of pastry with beaten egg. Make 3 slits in pastry to allow steam to release.
BAKE in preheated oven for 25 to 30 minutes or until crust is golden brown and filling is piping hot.