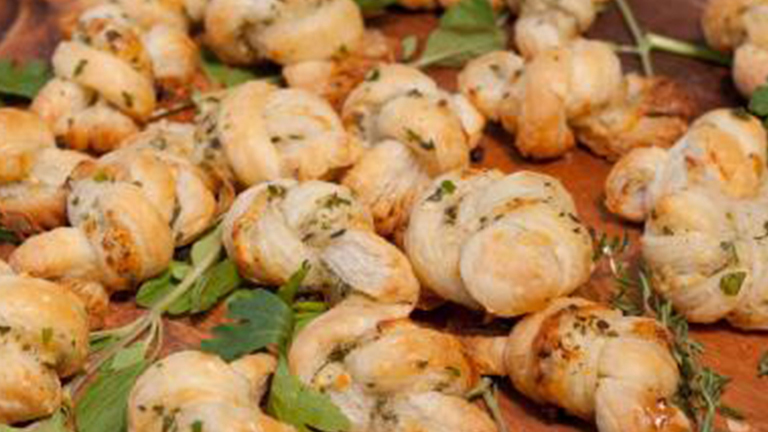 Puff Pastry Herb and Garlic Knots
PREP TIME:

8

minutes
BAKE TIME:

22

minutes
TOTAL TIME:

30

minutes
ingredients
1/2 (397 g) Tenderflake® Frozen Puff Pastry, defrosted
6 tbsp (90 mL) Melted butter
2 tbsp (30 mL) Minced garlic
2 tbsp (30 mL) Chopped fresh herbs (parsley, oregano, thyme)
2 tbsp (30 mL) Chopped fresh herbs (parsley, oregano, thyme)
directions
PREHEAT oven to 400°F (200°C).
LINE two baking sheets with parchment paper.
ROLL puff pastry on a lightly floured work surface with a lightly floured rolling pin to a 10" (25 cm) square.
COMBINE butter with garlic and herbs. Brush half the butter mixture over the half of the pastry closest to you. Fold the pastry over the buttered portion and lightly press the edges together then lightly roll with a rolling pin. Cut pastry into 20-1/2" (1.25 cm) strips and tie each strip into a knot. Place on the baking sheets about 2" (5 cm) apart.
BAKE in the preheated oven for 20-22 minutes or until golden brown. Remove from the oven and immediately brush with the remaining butter. Serve hot.