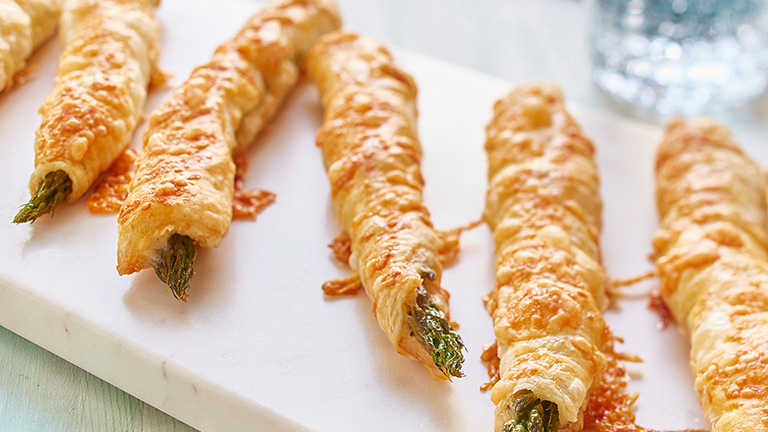 ,
Puff Pastry Rolled Asparagus
PREP TIME:

15

minutes
BAKE TIME:

20

minutes
TOTAL TIME:

35

minutes
ingredients
1/2 Pkg (397 g) Package Tenderflake® Puff Pastry
1 Egg, beaten
1/3 cup (80 mL) Freshly grated Parmesan cheese
14 Stalks asparagus
directions
PREHEAT oven to 425°F (220°C).
ROLL out puff pastry on a lightly floured surface with a floured rolling pin to a 10" X 12" (25 X 30 cm) rectangle.
TRIM pastry edges and cut puff pastry into Ÿ inch (2 cm) strips, about 9" (23 cm) long using a sharp knife or a pizza cutter. Brush the strips lightly with egg and sprinkle with cheese.
TRIM bottom stems of the asparagus to make 6" (15 cm) spears. Wrap the puff pastry around the asparagus in a spiral fashion to completely cover the asparagus. Place on a parchment lined baking sheet and brush with remaining egg. Sprinkle with additional cheese if desired.
BAKE in preheated oven for 15-20 minutes or until golden brown.