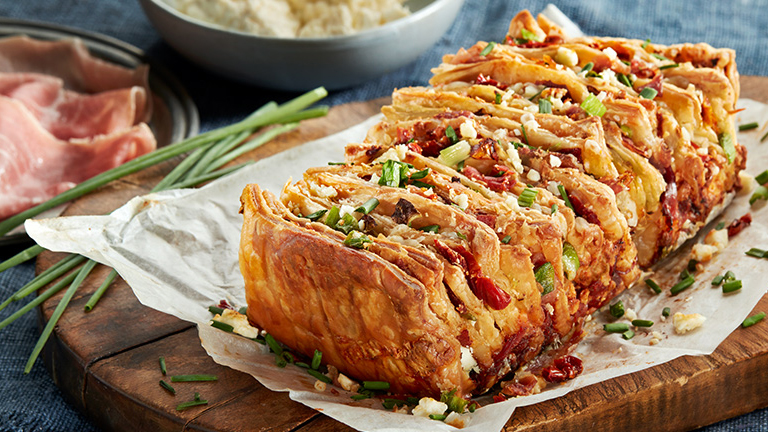 Pull Apart Prosciutto Loaf
SERVES:

8

PREP TIME:

15

minutes
BAKE TIME:

50

minutes
TOTAL TIME:

65

minutes
ingredients
1 box Tenderflake® Rolled Puff Pastry Sheets
1 cup (250ml) feta cheese, crumbled
1/2 cup (125ml) sundried tomatoes, diced
2 green onions, chopped
2 Tbsp. (30ml) chives, chopped
60 grams sliced prosciutto, diced (optional)
directions
Thaw both puff pastry sheets according to package directions.
Preheat oven to 375F. Line an 8" x 4" x 3" loaf pan with parchment paper.
Unroll the puff pastry sheets and roll out to a 10" x 12" rectangle.
Sprinkle the feta, prosciutto, sundried tomato and green onion evenly over the 2 sheets.
Using a sharp knife, slice one sheet into four 3" strips. Stack each strip on top of each other and cut into four segments. Place the stacked squares on their side in the loaf pan. Repeat with the second sheet of pastry.
Bake for 50 minutes to 1 hour. If the loaf is getting too dark you can cover it with foil.
Tips: Allow loaf to cool in the pan for 1 hour. Garnish with chopped chives (optional).