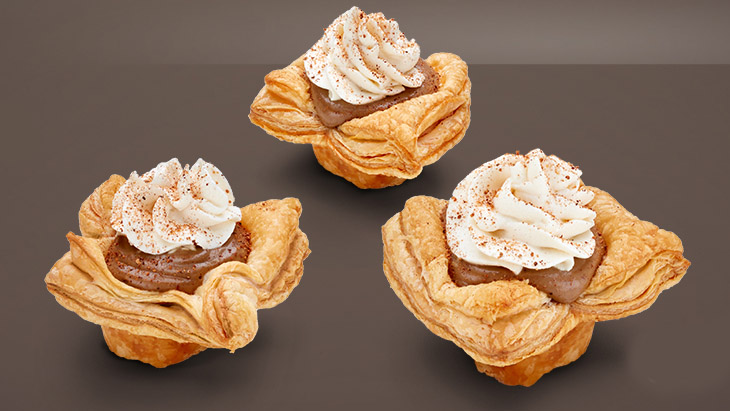 SERVES:

9

PREP TIME:

30

minutes
BAKE TIME:

30

minutes
TOTAL TIME:

60

minutes
ingredients
1 Roll of Tenderflake® Puff Pastry Sheet
1 1/2 cups (350 mL) whipping cream
3 egg yolks
3 tsp. (15 mL) vanilla
1 tbsp. (15 mL) cornstarch
¼ cup (60 mL) fine sugar
2 tsp. (10 mL) pumpkin spice
1/2 tsp. (2 mL) cinnamon
1 cup (250 mL) whole milk
1 tbsp. (15 mL) instant espresso
1 tbsp. (15 mL) butter
Ground nutmeg for garnish
directions
Thaw pastry according to package instructions. Pre-heat oven to 350°F. Grease a mini muffin pan and set aside.
Using a hand blender whip 1/2 cup of whipping cream into stiff peaks. Stir in 1 tsp. of vanilla. Cover and refrigerate until ready to use.
In a medium sized bowl, whisk together egg yolks, 2 tsp. of vanilla, cornstarch, sugar, pumpkin spice and cinnamon.
In a medium sized saucepan over medium high heat bring milk, espresso and 1- cup of cream to a gentle boil, 3-5 minutes. Remove from heat.
Whisking continuously, slowly add warmed milk into egg mixture. Return mixture to the saucepan and cook over medium-high heat. Whisk until thickened and custard coats the back of a spoon, roughly 5-7 minutes. Remove from heat and stir in butter. Pour custard into a medium size bowl, cover and cool completely.
Unfold puff pastry onto your work surface. Cut pastry into 9, 3×3-inch squares. Place each square into a muffin cup. Cut pastry parchment paper into 9 squares and place in the center of each pastry cup, fill cups with pie weights.
Bake for 15-20 minutes until golden brown and puffed. Allow cups to cool. Using a piping bag, generously fill each cup with pumpkin custard.
Garnish latte cup with a dollop or piping of whipped cream and a dusting of nutmeg.